It is time for another week of the NEW and ever popular TVG Super 8 Contest, however this week it is bigger and better than ever!
Each Friday, TVG selects 8 races on Saturday for the contest. If you can pick the winner of all 8 races the pay out is normally $100,000, however this week it is being bumped up to $250,000 in celebration of the Breeder's Cup!
Not only will the stakes be higher for all the horses running in the Breeders' Cup, but thanks to TVG the stakes just got higher for you. The best news of all – It's absolutely FREE to play!

If you have never played before, it is very simple. This is how it works: make one win selection for all 8 of the selected races at the Breeders' Cup. If they all win, you can win $250,000. But wait, there's more! If you are able to get at least 5 correct, then there are consolation prizes. (Insert whatever they are this time). See official contest rules for details.
Here are the contest races for this weeks special $250K Breeders' Cup edition: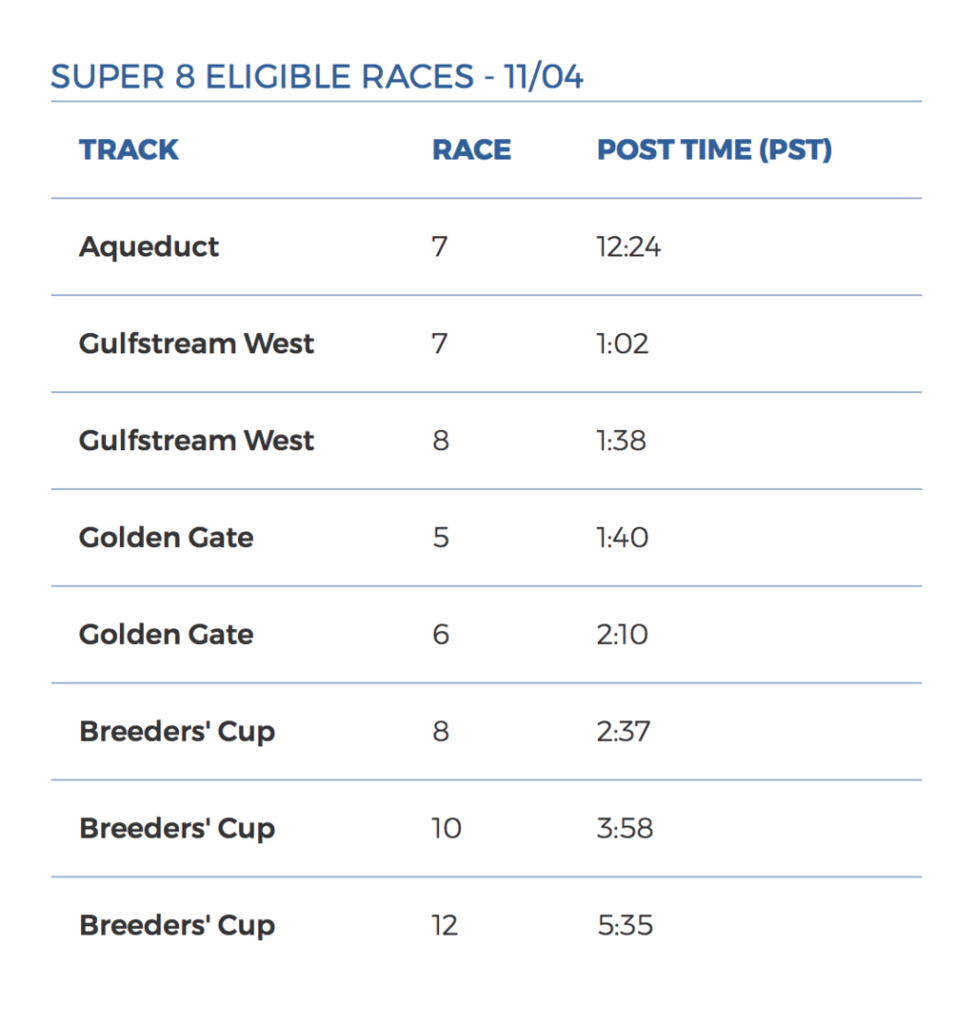 All you have to do to play is log into your TVG account OR sign up now for an account and get started. Again, you just have to pick one horse to win each race, and it is completely FREE to play. Once your selections are made, tune into TVG, cheer your horses home, and hope for a life-changing score. Not sure who to wager on? Check out our free win picks for this week's contest:
Aqueduct Race 7: #1 Game Over
Gulfstream West Race 7: #2 Kroy
Gulfstream West Race 8: #7 Starship Apollo
Golden Gate Race 5: #2 Alive and Well
Golden Gate Race 6: #2 Gabos Macondo
Breeders' Cup Race 8: #2 Drefong
Breeders' Cup Race 10: #11 Bolt d'Oro
Breeders' Cup Race 12: #1 Arrogate