The Battle Royale 365 days in the making is finally here.
After a year of anticipation, the heavily-anticipated rematch between Mind Your Biscuits and the defending champion Drefong is only hours away.
I checked in with owner/trainer Chad Summers one last time before the Breeders' Cup Sprint to see how his superstar Biscuits is doing and how he anticipates the race shaping up with Biscuits' regular jockey Joel Rosario aboard. Watch the full interview below or click through for the transcript.
*****
CK: Curtis Kalleward here with Chad Summers, trainer for Mind Your Biscuits, getting ready for the Sprint race on Saturday. So, Chad, first of all, tell us how he's doing.
CS: Doing well, doing well. It's been a long and adventurous year, but we're where we wanted to be at the start of the year.
CK: Do you have any concerns about how the track is going to play with Biscuits' style?
CS: No. It seems like it's been fair, kinda going back, watching some of those old sprint races from the last couple of years and really dig in and watch a lot of tape and watch some races from yesterday (November 1, when the Del Mar fall meet opened). Speed was good yesterday; you could close a little bit, not a ton, but we feel like if you have the right horse, then you'll be okay.
CK: Knowing speed's been kind of working a little bit here at Del Mar, have you talked to Joel about maybe pushing him a little bit earlier, pressing the button faster on him?
CS: We have a lot of lot of different options out there. Obviously, he showed in the Malibu, he showed in the Belmont Sprint Invitational that he can be close to the pace. There's the possibility if you break on top, then you set the pace; you never know what's going to happen. And like Dubai, you can come from last. We'll have all different kinds of game plans in mind, we'll watch the races in the next couple of days, I'll probably meet with Joel three or four more times, and we'll make a final plan.
CK: What's the best-case scenario when the gates break open? What's the best-case scenario for what you want to see?
CS: Drefong going left. (laughs) In reality, just a fast pace. I want to see three or four horses hustle for the lead, whether it's Drefong, Imperial Hint, Roy H, Takaful. You have a lot of horses in that race that have shown speed before. I don't want everybody to get cute and everybody take back and one horse on the lead by himself. That's the only thing you worry about in a race. It's funny because, when there's a race like we had last month where there's a horse that's lone speed, you know, man, all right, lone speed. When there's a race when there's so much speed signed, you worry that everybody sits there and goes, "Oh, we're gonna let these guys kill each other, we'll take back," and at the end of the day, it turns out that everybody takes back and there's one horse in front by himself again. You hope that the jockeys don't overthink it and we'll see what happens.
CK: Are you worried about the short stretch that Del Mar has compared to tracks like Belmont?
CS: Oh, absolutely. The first thing me and my exercise rider said when we came here was, "Man, we had no idea how short of a stretch it is." It's 3/16 of a mile. We know that, we've made that adjustment. Being out here for the week and a half that we have been, I think, is going to end up playing in our hand and we know what we'll have to do to win.
CK: Rate your chances, scale of 1-10, of winning the race.
CS: 10. We're not here to play around. We're in it to win it. Drefong won only by a length and 1/4 last year and we know what we have to do to catch him.
CK: Other than Drefong, who's obviously going to be the favorite, who do you see as your top competition for this race?
CS: Joel Rosario. (laughs) I think Imperial Hint, with what he's done; Roy H, obviously being a Californian horse; even Ransom the Moon has a win here at Del Mar, under mitigating circumstances. It's a really, really deep and talented field. Takaful and American Pastime are both on the improve as 3-year-olds. From top to bottom, you're gonna find any one horse that has a chance. I don't think there's anybody in here that can't win. Even a horse like Whitmore, the Oaklawn people out there know how good he can be. It's definitely a wonderful race.
CK: Other than the Sprint race – for the whole weekend, what's one horse that you think is sitting on a big race that maybe isn't being talked about right now?
CS: Sharp Azteca. I think the Dirt Mile is going to be his race to lose. The Distaff, I'm excited to see, as well, on Friday. I think the 3-year-olds look good in there. I'm not sure how strong this 3-year-old crop is overall; we'll see. Obviously, West Coast is in the Classic, but the filly 3-year-olds look like they're probably maybe a little bit better than the older mares, so I'm excited for that on Friday.
CK: Now, you mentioned Sharp Azteca. How much of that do you think is going to be your responsibility if he wins? I know you were out there picking up his saddle cloth for him: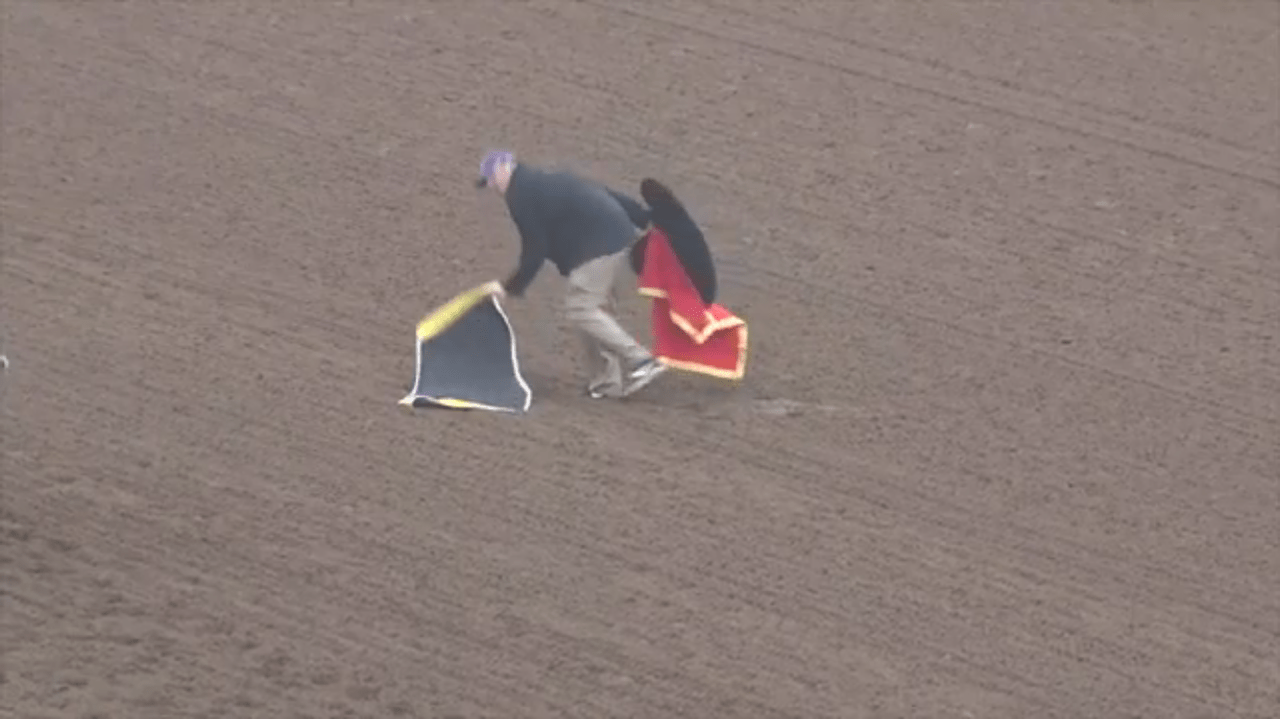 CS: Zero, zero, zero. (laughs) Absolutely zero.
CK: Well, I appreciate your time, thanks for all your time this summer, and it's been a pleasure talking to you. Good luck on Saturday.
CS: Thanks. Thanks, guys.
*****
Stay tuned next week for our final Chad Summers Profile when we recap the result of the TwinSpires Breeders' Cup Sprint.
From the bottom of my heart, thank you to each and every one of you who's read, commented, and shared my profiles this summer. It has been a great and unfathomable adventure. Good luck to everyone playing this weekend, and make sure you save enough pocketbook money to put something down on Mind Your Biscuits!
Want to read the entire series from the start?
Finding a Star: Chad Summers Profile #1
Training a Star: Chad Summers Profile #2
New York State of Mind: Chad Summers Profile #3
Stable Update: Chad Summers Profile #4
Growing a Barn: Chad Summers Profile #5
Forego Showdown: Chad Summers Profile #6
Forego Fallout: Chad Summers Profile #7
Stable Update: Chad Summers Profile #8