The inaugural running of the $12 million Pegasus World Cup Invitational, held earlier this year at Gulfstream Park, sure lived up to the hype when we saw Arrogate continue his domination. On January 27, 2018, the Pegasus World Cup returns to Gulfstream Park, running for a new record-setting purse of $16 million. Whether you're looking for stakeholders, contenders, Pegasus Day races, news, 2017 Pegasus World Cup results and payouts, picks and tips, or handicapping advice, you will have the most updated information here.
2018 PEGASUS WORLD CUP STAKEHOLDERS
The way that the Pegasus World Cup works is simple. The race is comprised of 12 stakeholders, each representing a group of individuals and owner groups that purchased a spot in the starting gate for $1 million each. For 2018, another $4 million will be contributed by The Stronach Group, making the purse an astronomical $16 million. The official 2018 stakeholders have yet to be determined but will be updated as soon as they are announced.
2018 PEGASUS WORLD CUP RACES AND CONTENDERS
The inaugural 2017 Pegasus World Cup Invitational was not the only stakes race at Gulfstream Park that day, as we saw several stakes races run on the undercard, too. A few of the highlights included Curlin's Approval winning the $100,000 Hurricane Bertie Stakes, Imperative rallying to win a thrilling $400,000 Poseidon Handicap over Stanford, Suffused taking the Grade 3, $200,000 La Prevoyante Handicap, and more. We are still months away, but we believe that the 2018 Pegasus World Cup undercard will be even more impressive. While we don't yet know the undercard races, we can begin to list our Pegasus World Cup contenders:
PEGASUS WORLD CUP INVITATIONAL
Purse: $16,000,000
Grade: 1
Distance: 1 1/8 Miles
Age: 4+
Contenders: Arrogate, Gun Runner, Keen Ice, Mind Your Biscuits, Shaman Ghost
LATEST PEGASUS WORLD CUP NEWS
Arrogate Leaves No Doubt in Inaugural $12 Million Pegasus World Cup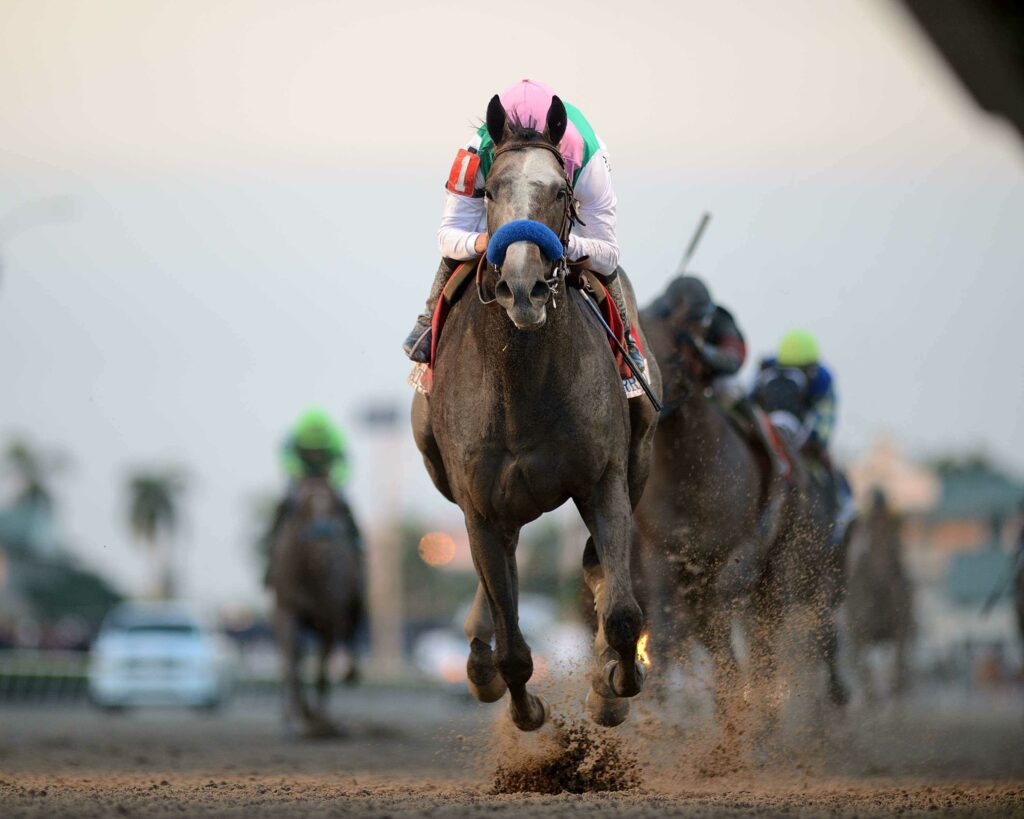 Juddmonte Farm's Arrogate overpowered his 11 rivals, including two-time Horse of the Year California Chrome, while capturing the Grade 1, $12 million Pegasus World Cup Invitational. Read More
See more Pegasus World Cup news HERE.
2017 PEGASUS WORLD CUP RESULTS AND PAYOUTS
Going into the inaugural 2017 Pegasus World Cup, all eyes were on California Chrome and Arrogate as the two would have their rematch after the Breeders' Cup Classic. However, the only horse running down the stretch was Arrogate, registering his second straight decision over California Chrome. With the win, Arrogate earned a 116 Beyer and was on his way to becoming the richest racehorse in North American history. Also, be sure to download our 2017 Pegasus World Cup Wagering Guide by clicking the button below. These wagering guides are included at least once a month as part of our premium picks packages.
| | # | HORSE | JOCKEY | TRAINER | STAKEHOLDER | FINAL ODDS |
| --- | --- | --- | --- | --- | --- | --- |
| 1st | 1 | Arrogate | Mike Smith | Bob Baffert | Coolmore | 0.90* |
| 2nd | 7 | Shaman Ghost | Jose L. Ortiz | James A. Jerkens | Adena Springs | 19.80 |
| 3rd | 3 | Neolithic | John Velazquez | Todd A. Pletcher | Startlight pegasus partners | 23.40 |
| 4th | 9 | Keen Ice | Javier Castellano | Todd A. Pletcher | Ronald Frankel & Gerald Frankel | 16.30 |
| 5th | 5 | War Story | Antonio Gallardo | Jorge Navarro | Dan Schafer | 49.10 |
| 6th | 4 | Noble Bird | Julien Leparoux | Mark E. Casse | Mack, Fostock, and Brown | 30.20 |
| 7th | 8 | Semper Fortis | Tyler Gaffalione | Doug O'Neill | Reddam Racing LLC | 160.10 |
| 8th | 10 | Breaking Lucky | Luis Contreras | Reade Baker | Reeves throughbreed racing, Randy Hill & E Young | 74.50 |
| 9th | 12 | California Chrome | Victor Espinoza | Art Sherman | California Chrome | 1.20 |
| 10th | 2 | Prayer for Relief | Florent Geroux | Dale L. Romans | Rosedown racing stables | 138.10 |
| 11th | 6 | War Envoy | Luis Saez | Mick Ruis | Ruis Racing LLC | 188.40 |
| 12th | 11 | Eragon | Edgar Prado | Laura Wohlers | James Mcingvale | 82.40 |
| WAGER TYPE | NUMBERS | PAYOFF | POOL |
| --- | --- | --- | --- |
| $2.00 Exacta | 1-7 | $33.80 | $2,462,439 |
| $1.00 Trifecta | 1-7-3 | $104.00 | $2,157,722 |
| $0.10 Superfecta | 1-7-3-9 | $46.39 | $1,611,632 |
| $2.00 Daily Double | 1-1 | $26.00 | $449,751 |
| $1.00 Pick 3 | 12-1-1/13/14/15 (3 Correct) | $40.10 | $490,752 |
| $0.50 Pick 4 | 11-12-1-1/13/14/15 (4 Correct) | $102.80 | $2,023,813 |
| $0.50 Pick 5 | 8-11-12-1-1/13/14/15 (4 Correct) | $7.35 | |
| $0.50 Pick 5 | 8-11-12-1-1/13/14/15 (5 Correct) | $342.60 | $1,105,296 |
| $0.20 Pick 6 Jackpot | 8-8-11-12-1-1/13/14/15 (6 Correct) | $3,145.34 | $469,172 |
| $1.00 Super High Five | 1-7-3-9-5 | $6,781.60 | $214,705 |