Each week on Dark Tuesdays, we will bring you "The Saratoga Skinny" looking at the coming week of racing at Saratoga and looking back at the big action the week before. "The Saratoga Skinny" will be broken into five sections: The Break (looking at the biggest story of the week), The Turn (focusing on Stakes races on Saturdays), The Stretch (focusing on big races in the upcoming week), Going to the Whip (some thoughts on the week before and a few light-hearted jokes, when appropriate), and The Finish Line (discussing important upcoming events in Saratoga). Now that you know how "The Saratoga Skinny" works, let's get into it!
The Break: Smokin' Gun
Gun Runner's dominant win in the Grade 1 Whitney on Saturday is proof how horses can continue to develop and improve into their 4- and 5-year-old seasons.
Before the Whitney, regular rider Florent Geroux said that Gun Runner was stronger and more grown up than he was last year when he raced at Saratoga in the Travers, finishing a good third from the far outside 13 post.
On Saturday, Geroux's confidence in his top mount came to fruition. Gun Runner took it to the field early, sitting off the "rabbit" Cautious Giant, then never looked back after he put away that foe before the far turn. His strong finish to win by 5 1/4 lengths has cemented him as a top older male and a candidate for Horse of the Year.
The performance puts Gun Runner's career in perspective, as he's developed from a top juvenile prospect, then along the Kentucky Derby trail, before moving onto the top 3-year-old races last year. Gun Runner has always shown the grit and consistency to "dance all the dances," as the 2016 Louisiana Derby winner ran in the Kentucky Derby, Matt Wynn, Haskell, Travers, Pennsylvania Derby, and Breeders' Cup Dirt Mile last year. Showing his consistency, he hit the board in each of those races (except for the Haskell, which was run over a sloppy strip with a troubled trip).
His owners Winchell Thoroughbreds and Three Chimneys Farm had every right to send the son of Candy Ride off to stud duties after his long campaign and Grade 1 Clark Handicap win to end 2016. The ownership group should receive kudos for keeping him in training this year because he has flourished, going undefeated in three starts on United States soil, including two Grade 1 wins. His one 2017 loss was a gutsy runner-up finish to world-class Arrogate in the $10 million Dubai World Cup in March.
The rule of thumb is that horses mature up until they are 5 years old. Many big-name Triple Crown horses don't get the chance to race after their 3-year-old seasons, though, as they are sent off to stud duties shortly after their Triple Crown successes. For example, look at the two horses that raced in front of Gun Runner in the Kentucky Derby, Nyquist and Exaggerator, who have just finished up their first seasons at stud.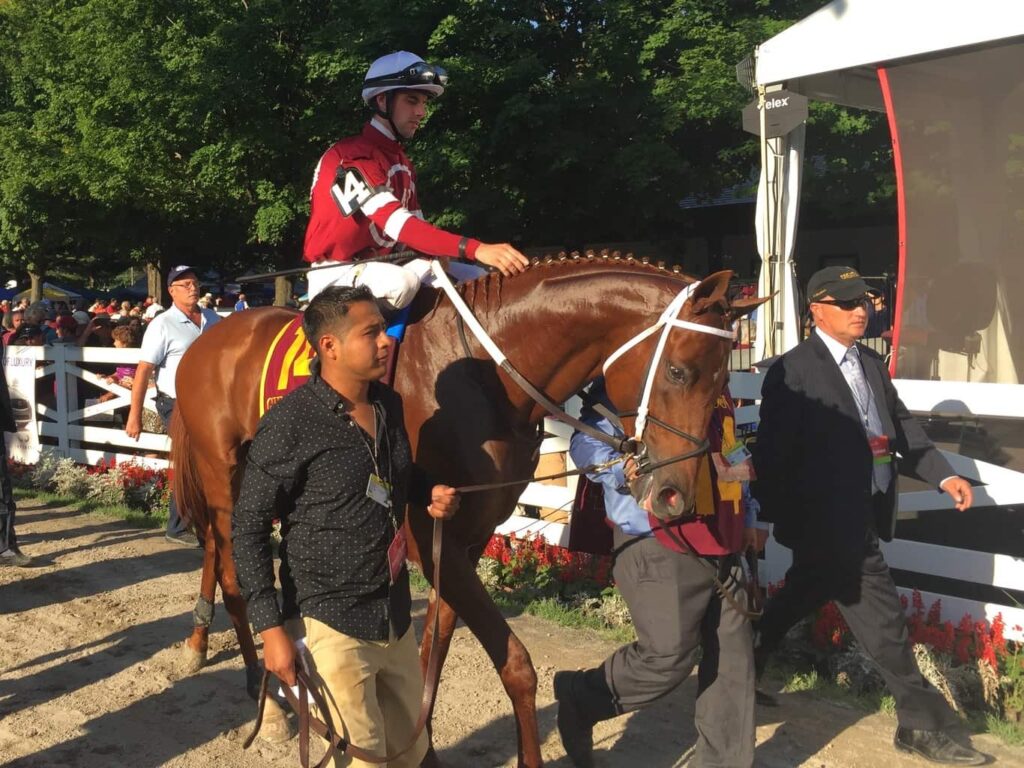 Another example of a horse that continues to develop with age is Keen Ice, the runner-up trying to chase down Gun Runner late in Saturday's Whitney. Now a 5-year old, Keen Ice has fought many wars in his career, most notably his upset win over Triple Crown winner American Pharoah in the 2015 Travers.
The son of Curlin, known as a sire of late-developing horses, has proven in his last two starts that he is far from a "one trick pony." He upset the Grade 2 Suburban at Belmont to start this July and now has another Grade 1 placing on his ledger after his strong Whitney run, where he stumbled badly out of the gate, putting him 7 lengths behind the leaders to start the race (see photo below):
Keen Ice has developed nicely after being transferred by owners Donegal Racing to the Todd Pletcher barn in mid-2016. Pletcher has been criticized throughout his career for not being able to maintain high performance from older horses after their 3-year-old seasons. The way that Keen Ice has developed and performed for Pletcher, including a good third in last year's Breeders' Cup Classic, should help dismiss those who have criticized the top trainer.
Gun Runner's trainer Steve Asmussen is another who has received criticism for not maintaining high performance from his top 3-year-olds later in their careers. Again, the critics are now starting to eat their words, as the Hall-of-Fame trainer has shown great horsemanship and development with Gun Runner to make him into a top older male.
Asmussen may next target Gun Runner for the Grade 1 Woodward on September 2 at Saratoga, while Pletcher will look to stretch Keen Ice back out to 1 1/4 miles in the Grade 1 Jockey Gold Cup at Belmont on October 7. Both are targeting the Breeders' Cup Classic on November 4 at Del Mar and a possible rematch with Arrogate.
As both horses continue to develop with age, these next starts going into the Breeders' Cup may give us more proof of how performance can continue to improve with maturity and while under good horsemanship.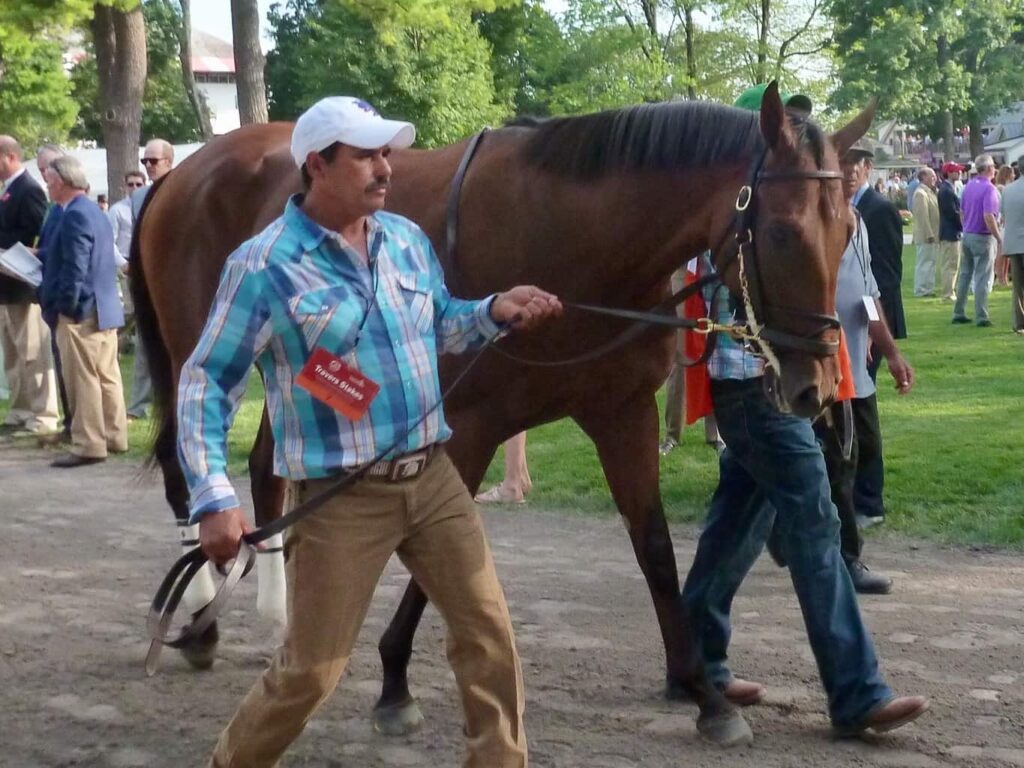 The Turn: Turf Milers Take Center Stage
In the lightest week of stakes races during the Saratoga season, the Fourstardave on Saturday, August 12, highlights Week 4 action as the only Grade 1. A small but high-quality field of six is expected for this 1-mile turf race.
Trainer Christophe Clement was successful in stretching out his top turf star, Disco Partner, to win the non-graded Forbidden Apple at Belmont in mid-July. Disco Partner set the North American speed record for a 6-furlong turf race when he won the Grade 3 Jaipur in June on the Belmont Stakes undercard, but many doubted if he would be as successful at the mile distance. Disco Partner makes a step up in class to Grade 1 company at this distance, but he may still go off as the betting favorite.
Pletcher's American Patriot will look to rebound after a disappointing 11th-place finish at Royal Ascot in the Group 1 Queen Anne but had previously won the Grade 1 Maker's 46 Mile at Keeneland in April before his trip across the pond.
New Subscriber Bonus: Access our Top 10 Wagering Angles in Racing to see exactly what we look for when opening up the past performances.
Trainer Brad Cox said that he's looking to run Sassy Little Lila in the Fourstardave, where the 4-year old filly would be taking on her male rivals for the first time. The Grade 1 Just A Game runner-up will be one of the main early speeds and will race with a weight allotment of 112 pounds, getting a seven- to nine-pound advantage on the males.
The Grade 3 Poker winner Ballagh Rocks (for trainer Bill Mott), the Grade 1 Manhattan runner-up Time Test (for trainer Chad Brown), and the 2016 Grade 1 United Nations winner World Approval (for trainer Mark Casse) will complete a small but very classy field. Weekend Hideaway is a Main Track Only entry.
The Stretch: Graded Stakes Babies
The Fourstardave undercard is highlighted by the juvenile fillies going 6 1/2 furlongs in the Grade 2 Adirondack. Saratoga Opening Day maiden-breaking winner Southampton Way might be one of the top choices. After running fifth in her debut in the Pimlico mud in May, her trainer Horatio DePaz added blinkers and she beat a salty field of top juvenile fillies with rich pedigrees by 1 length at Saratoga.
DePaz also has Laurel maiden-breaker Proportionality entered in the Adirondack for the same ownership group, Sagamore Farms.
Pletcher also has entered two in the Adirondack. The undefeated New York-bred Pure Silver will try open company for the first time after her non-Graded Lynbrook win at Belmont in July versus statebreds. Stainless comes in for Pletcher off a third-place finish in the Grade 3 Schuylerville, where she trailed early and had to go 7-wide before finishing up nicely.
Others entered in the Adirondack are Di Maria (for trainer James Ryerson), Walls of Compassion (for trainer Rudy Rodriguez), and Sly Roxy (for Casse).
Limited View (for trainer John Salzman) is entered after she refused to be saddled in the paddock before the Grade 3 Schuylerville on Saratoga Opening Day and needed to be scratched.
---
The juvenile males will look to emerge in the Grade 2 Saratoga Special on the next day, Sunday, August 13. The last two winners of "The Special" (Exagerrator and Gunnevera) both went on to win multiple graded stakes after their triumphs as juveniles in Saratoga, so this year's group will look to continue that trend.
Personally, the horse that I have been waiting all meet to watch is Copper Bullet, who will run in the Saratoga Special for Asmussen. I interviewed Asmussen about his "eventful" run in the Grade 3 Bashford Manor to end June; read my full interview with him here. Copper Bullet is entering off of a bullet workout (best out of 21 workers) at 5 furlongs over the Oklahoma Training Track and may be one of the most talented juveniles in the country. If he has been able to mature off of the Bashford Manor, then Copper Bullet may put on a memorable show in the Saratoga Special.
Others probables for the Saratoga Special include Bal Harbour (for Pletcher), Barry Lee (for DePaz), Diamond Oops (for trainer Patrick Biancone), Hollywood Star (for trainer Dale Romans), Mo Diddley (for Casse), and Vino (for trainer Kelly Breen).
Going to the Whip: Rabbit Season
In response to last week's Saratoga Skinny about Cautious Giant being a "rabbit" in the Whitney, the NYRA stewards installed this sign in the paddock right before the race: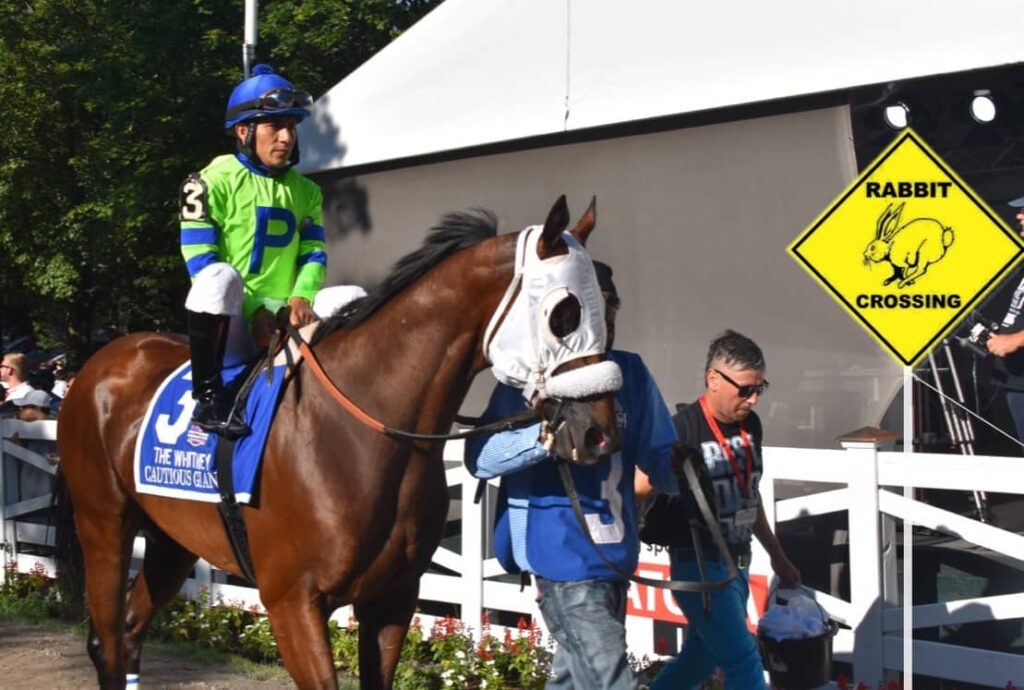 There will be no rabbit foot, rabbit shoe, rabbit horseshoe, rabbit hareshoe, or rabbit tail jokes in this week's Skinny.
Impressive juvenile winners at Saratoga this week included National Flag, Pauseforthecause, Trumpi, and Golden Orb, if you're looking for high-quality babies to add to your virtual stable updates.
Overheard conservation in the Whitney paddock between two teenagers: "Yeah, that's Keen Ice. He beat Pharoah last time he was here." He's already a Saratoga legend.
Jockey Jose Ortiz was all smiles after his win on American Gal in the Grade 1 Test, with his wife and their little one, along with former jockey Taylor Rice:
Jose Ortiz leads his brother, Irad, in the jockey standings for the meet by only one win (24 to 23) going into Week 4.
Chad Brown leads Todd Pletcher in the trainer standings for the meet by only one win (17 to 16) going into Week 4.
As we previewed in last week's Skinny, the Grade 2 Hall of Fame Stakes was thrilling, with Bricks and Mortar striding out late to beat Yoshida and Big Handsome. If you're looking for an example of late "turn-of-foot" on the turf, the way that Bricks and Mortar was moving late is the perfect example, so watch the replay here.
The Finish Line: Equestricon is Here!
Equestricon, the first and only of its kind horse racing premiere lifestyle event, will be held from August 13 to 15 in Saratoga. The convention is going to feature some of the biggest names in racing giving speeches and signing autographs, along with fun events planned that are too broad in scope to summarize here, so check out the Equestricon site and get your tickets if you plan to be in Saratoga.
I have been involved with Equestricon all year as a writer for their Equestriblog and am very proud of the work that I have done for the site. Please take some time to check out some of my articles:
The Program: Race Callers – I interviewed race callers Tom Durkin, Larry Collmus, Dave Rodman, and Travis Stone about their favorite race calls and their Equestricon panel.
Man O' War Project Important for Veterans & Horses – My article and interview with Columbia University on their program to help war veterans with PTSD by using Equine Assisted Therapy.
The Program: Tournament Handicapping Workshop – I interviewed 2015 NHC Tour Champion Jonathon Kinchen and Daily Racing Form's Peter Thomas Fornatale about this workshop at Equestricon.
Feature: Working with the B.E.S.T. – My article about the great work of the Backstretch Employee Service Team and an interview with Larry Collmus on why this group is so important.
If you're planning to be there, let me know by tweeting me @SaratogaSlim, where you can get all my news and views on the Saratoga meet!