It's time for another week of the NEW TVG Super 8 contest!
Each Friday, TVG selects 8 races on Saturday. If you can pick the winner of all 8 of those races, then you can win $100,000. The best news of all – it's absolutely FREE to play!
The game is simple: make one win selection for all 8 of the selected races from across the country. If they all win, you can win $100,000. But wait, there's more! If you're able to hit at least 5 correct, then there are consolation prizes. $100,000 for 8 correct, $8,000 for 7 correct, $5,000 for 6 correct, $3,000 for 5 correct. See official contest rules for details.
This week's contest races are: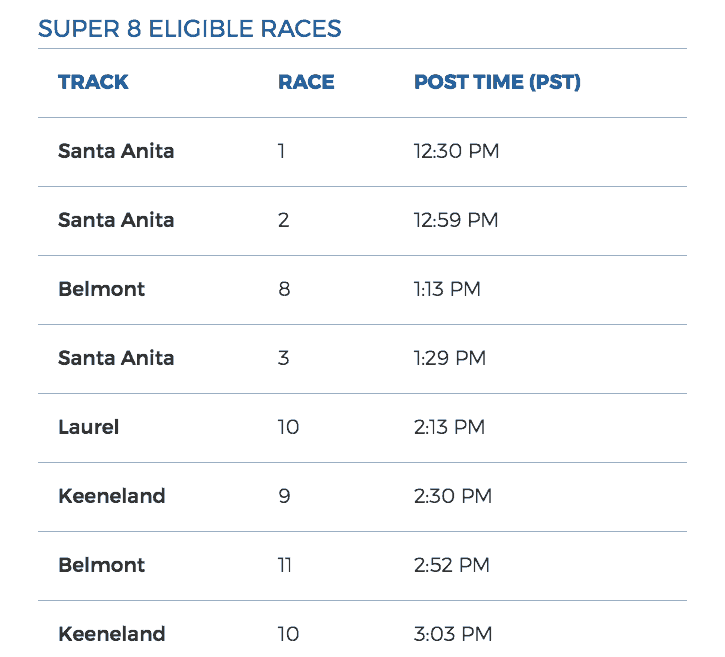 All you have to do to play is log into your TVG account OR sign up now and get started. Again, you just have to pick one horse to win each race. Once your selections are made, tune into TVG, cheer your horses home, and hope for a life-changing score. Not sure on who to wager on? Check out OUR free win picks for this week's contest.
Santa Anita Race 1: #2 Lindante (BEST BET)
Santa Anita Race 2: #7 Crazy Uncle Rick
Belmont Race 8: #8 T Loves a Fight
Santa Anita Race 3: #7 General Ike
Laurel Race 10: #2 John Jones
Keeneland Race 9: #8 Chalon
Belmont Race 11: #4 Way Smart (BEST BET)
Keeneland Race 10: #9 Jaunt (BEST BET)