On Wednesday we touted a horse named THE GOMPER. He was running in the 6th at Santa Anita Park. We even showed you why we believed he would win using BETMIX (below screenshot).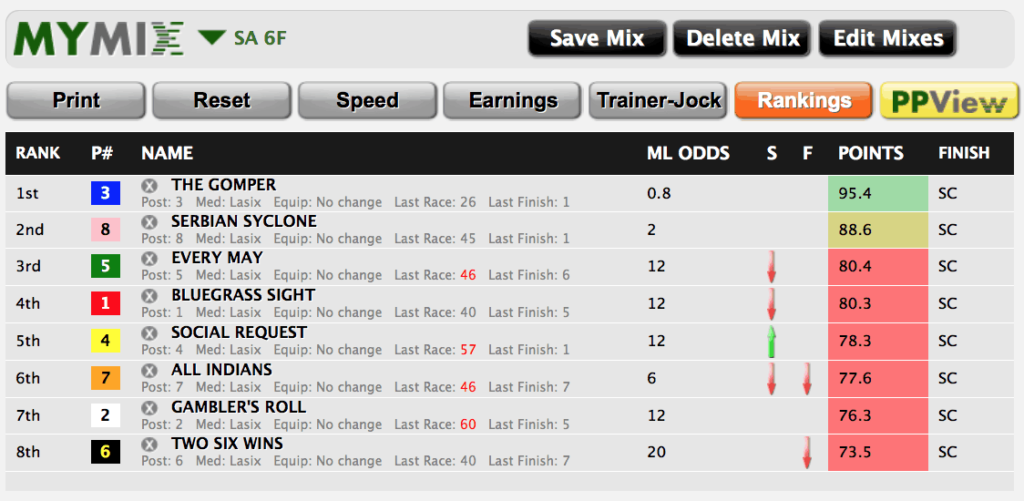 THE GOMPER finished 2nd. He ran great, and really showed he may be a force to recon with on the Triple Crown trail, but this was clearly a prep for something bigger. He didn't win. He finished 2nd. So what went wrong? Let's take a look: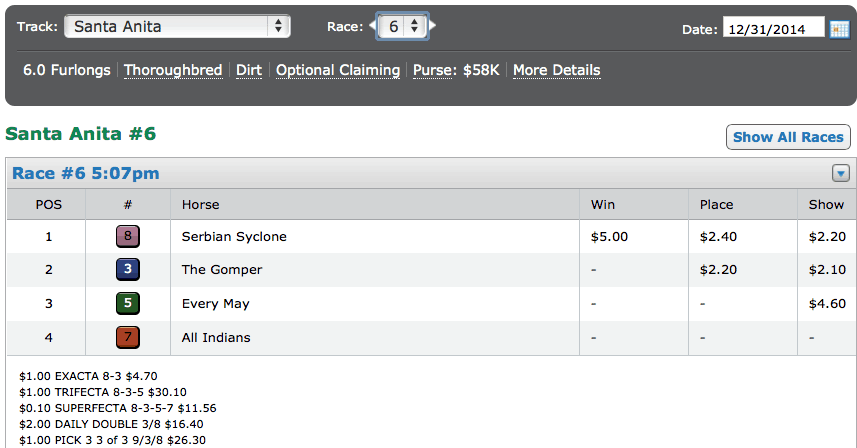 But as we take a closer look at the mix we used on BETMIX you can see something interesting. Our mix actually nailed the Trifecta paying $30.10 on a $1 wager. The #5 EVERY MAY was 36-1. And if you look at the Race Profile on BETMIX you can see that even though our custom mix gave us THE GOMPER, the #8 SERBIAN SYCLONE and #5 EVERY MAY were ranked highly in many categories. Not to mention the #7 ALL INDIANS who finished 4th.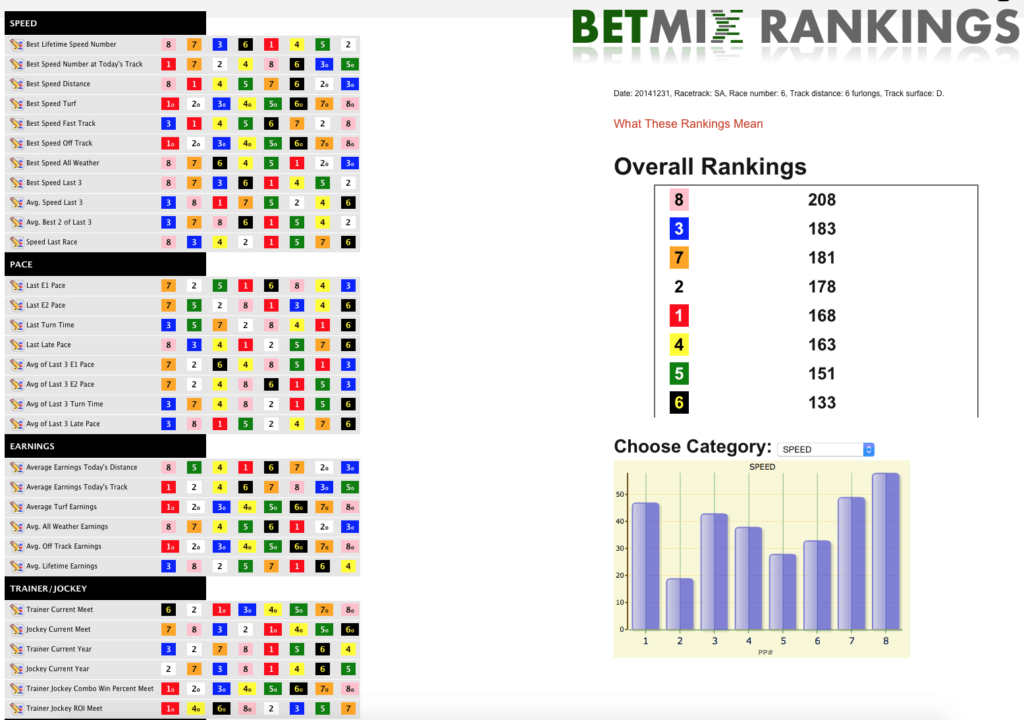 This is just another example of how diverse the information gets with BETMIX. They have everything! We use it to analyze and review every single race and I don't see why you wouldn't too. And for you slackers who don't have it yet, get ready because we've teamed up with BETMIX, the #1 horse racing handicapping software, to offer you a 3-Day Full Access pass to BETMIX. No strings attached. Just signup below and we draw the winners on Sunday, January 4th! We have 5 passes so we get to draw 5 winners. Enter once every 24 hours and good luck!
The BETMIX Giveaway is over but be on the lookout for more awesome prizes. We love giving stuff away!
Full Access Pass Includes:
– Handicap all current and future races.
– Save and name your Mixes.
– Access to our historical database to look at past races.
– Use MixMaker to help you create Mixes.
– Access to the MixLibrary. Download user submitted Mixes to get off to a fast start.
– Use of the All Races Report, handicap entire cards instantly.
– Use Race Search to find any race.
– Create and Test Custom Reports to help you build Mixes.
– Interactive Race Results to test your Mixes.
– Use Power Factors to find the most predictive factors for each race.
About BETMIX:
The Betmix horse racing software provides you with a variety of handicapping tools that allow you to win consistently at the racetrack. Using our proprietary slider technology you can select from over 40 handicapping factors and assign specific weights to each factor to create accurate handicapping mixes. Our full featured software allows you to save up to 200 different handicapping profiles for different race tracks, race types, and distances. You can access our comprehensive horse racing database to check your results and build your handicapping systems. Betmix is the best handicapping software on the market, easy to use and proven to find more winners.
Using the powerful artificial intelligence system in the MixMaker handicapping software, you can have the computer handicap races for you and reveal the most accurate settings for past races. Analyze entire race cards at a glance using the All Races Report. Instantly spot pace and speed advantages and see how horses rank using your saved handicapping systems. Build custom racing reports that focus on specific race types, or search our data base to find every race that meets your selection criteria. Our interactive horse racing results allow you to see how profitable your handicapping method would have been for a particular day or selection of races. Watch the handicapping tutorials or read the guide to see how easy it is to handicap with our horse racing software. Try out our handicapping method for free by taking a look at the Free Horse Race of the day. (http://betmix.com)