Pimlico is known as a speed-favoring track with tighter turns and favors the inside posts. If you follow horse racing, you'll hear that at least a dozen times in the week leading up to the Preakness.
The tight turns and speed-favoring nature don't mean that closers cannot have success in the race, though. Looking at this year's Preakness from a pace perspective, you'll see a good amount of speed signed on. Don't be overly swayed by overarching themes of the track.
Handicapping the horses in the Preakness is just half the battle. Trying to predict the pace of the race is the next part of putting together the puzzle. Pace makes the race, and in the last two runnings of the Preakness, we've seen some wicked opening fractions. Let's take a look at the Brisnet pace scenario: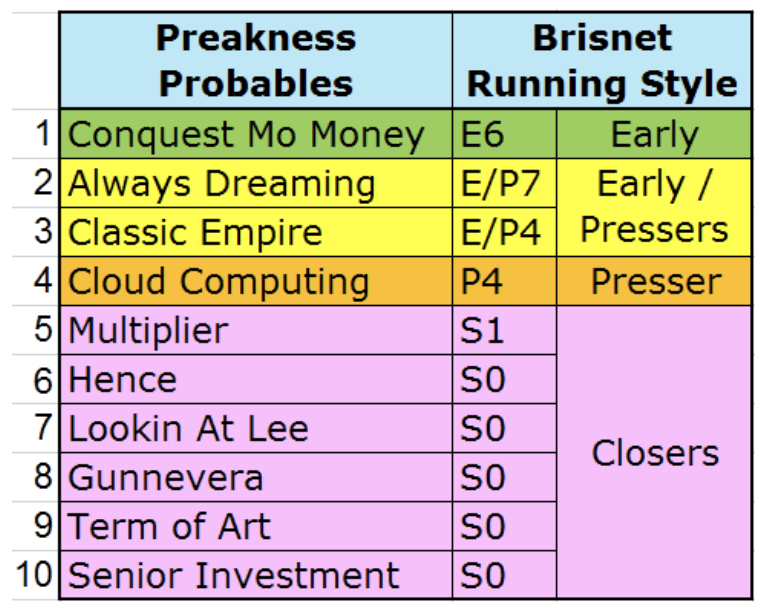 According to the chart, only one early speed horse – Conquest Mo Money – is expected to look for the lead. Conquest Mo Money did sit off the early speed in the Arkansas and Sunland Derbies, so he's not an all-out, need-the-lead type, but his best chance to compete in the Preakness will be getting the lead with Jorge Carreno up.
John Velasquez may not try to mess around while riding Always Dreaming, though, and depending on his post position, John may put him on the lead right away, much like Victor Espinoza did aboard American Pharoah in the 2015 Preakness. With Always Dreaming looking sharp and aggressive again in the mornings at Pimlico, getting him on the lead and looking for a gate-to-wire trip is a likely early pace scenario based on the break.
New Subscriber Bonus: Access our Top 10 Wagering Angles in Racing to see exactly what we look for when opening up the past performances.
Classic Empire will need to show the early speed in this spot that he showed at the beginning of his career. His recent bad break in the Kentucky Derby can't be held against him, and while his mid-pack run in the Arkansas Derby put him in trouble early, he was able to overcome that trip to win. Still, in the Preakness, he will need to show his natural speed earlier, especially if he's trying to chase down a possible loose-on-the-lead Always Dreaming.
For a more in-depth look at the race, including horse-by-horse analysis, check out the Preakness Wagering Guide, put together by our very own Mike "Saratoga Slim" Spector. Follow him on Twitter @SaratogaSlim.