After what has to be considered one of the most exciting years of racing in three decades some may feel they are in for a let down in the new year now that the Triple Crown winner has been retried to Ashford Stud. For those that are experiencing the post American Pharoah blues I offer my list of the top 10 things to look forward to in 2016:
1.) THE TRIPLE CROWN AND TRIPLE CROWN TRAIL – How will this years 2-year-olds shape up as 3-year-olds? They have a hard act to follow but the show must go on.
2.) SONGBIRD – How good is she? How will she mature from 2 to 3? Word from her connections is, don't hold your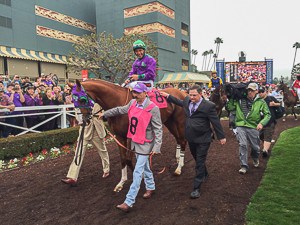 breath if you're expecting to see her run on the first Saturday in May. This may be true, but what also may be true is that Songbird could be racings next super star.
3.) CALIFRONIA CHROME – At this minute California Chrome is probably the most famous horse in training on the planet. Think about it: inside our racing game fans know who Beholder, Songbird and Frosted are, but the vast majority of the public, who do not follow racing on a day in day out basis, really have no idea who these after mentioned horses are. But ask them who California Chrome is and they are likely to know of him. If he returns as planned next year California Chrome will be the first dual classic winner since Funny Cide to race as a 5-year-old. He's a fairy tale horse in a lot of ways,and it will be exciting to see how he writes his next chapter.