If you're a fan of thoroughbred racing you know the feeling of having a love for a race horse which cannot be matched.  You follow the horse…you cheer for the horse…you adore the horse…you simply love the horse.  When a horse means this much to you sometimes a simple photo just won't do.  Sometimes you need more.  If you want to idolize your equine hero with something truly extraordinary, Sue Ziegler is your answer!  Ziegler is one of the best up and coming artists in the thoroughbred racing industry and operates the website szieglerart.com.  While her website features paintings of many things, it's the horse section that caught our eye immediately when Sue told us about her site.  Paintings of world class horses such as Songbird, California Chrome, Frosted, and American Pharoah are available on her website, and they are stunning to say the least.  This past week the Racing Dudes received paintings of American Pharaoh, and we both were blown away by the detail of the work.
Sue started drawing in graphite a mere 2 years ago, therefore her rise in the art world has been rapid.  You can tell by the detail of her paintings that horse racing is something she is deeply passionate about, and she's been rewarded for this detail and passion with several awards.  The list of awards are long, but these are the ones she's most proud of:
– Fine Art Connoisseur Magazine (online) wrote that "American Pharoah – Alpha Look" was a highlight of the American Academy of Equine Art Fall Show 2016.
– Gallop Magazine Winter 2016 featured a two-page spread of of "CA Chrome – Awesome Again"
– "CA Chrome – Awesome Again" print was the door prize at the TCA event "An Evening With Team CA Chrome" and one will be auctioned off at their Stallion Auction this week.
– Prints and originals in the beautiful "Spa Fine Art" gallery in Saratoga Springs, NY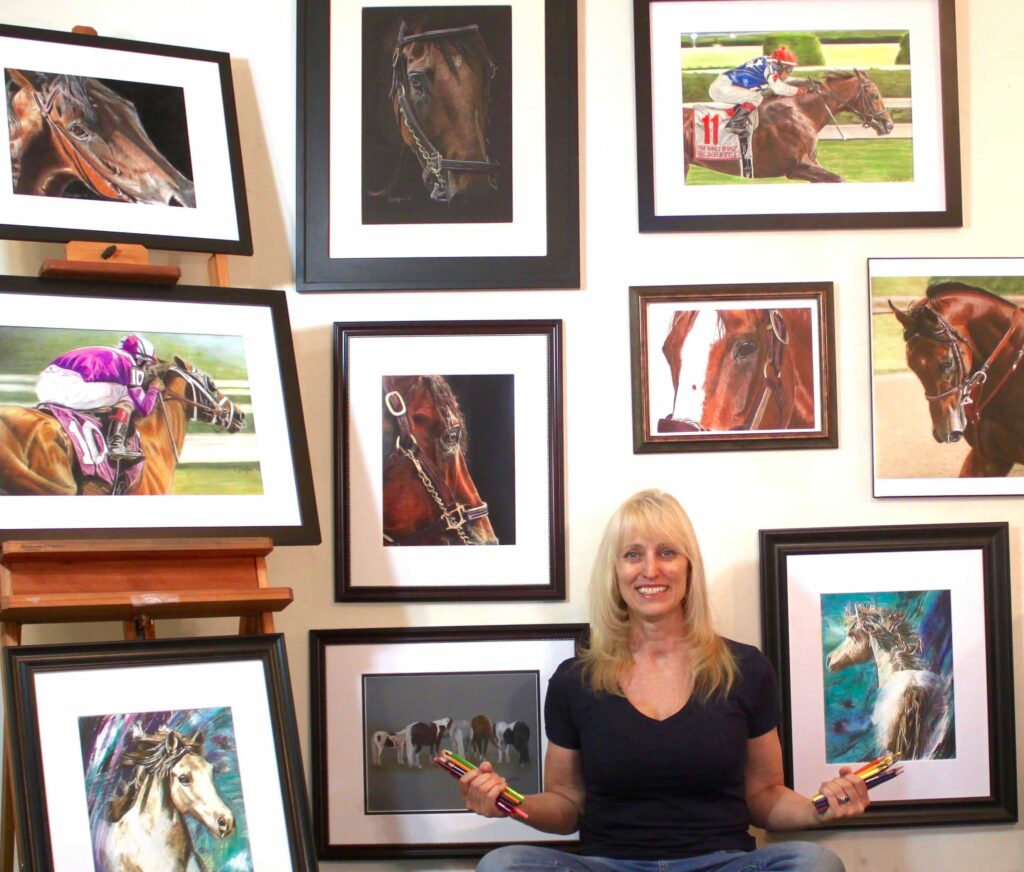 When preparing for this article I asked Sue three questions just looking to get a few quotes from the artist herself.  Come to find out, her answers were so thought-felt I needed to publish them in full.  Here is what the artist had to say about her work and her love of horse racing.
Racing Dudes: How/Why did you get involved in horse racing and in painting horses?
Sue Ziegler: My passion is drawing horses, and I started with drawing my own. But once I had painted my first thoroughbred there was no going back. The perfect conditioning of these athletes, their drive to win, the noble lines, for me there's nothing else like it. It's not just the famous thoroughbreds though, all are just magnificent and I love capturing their physical characteristics and personality. I really enjoy commissioned portraits because each owner has a special relationship with their horse and will know immediately if I haven't captured the details and even their personality accurately. And when I do, they appreciate it like no one else can. Due to the time involved I'm only able to take on 10-15 commissions each year and I really enjoy them.
My goal with my art is to capture the feeling of a moment in time. For example in "CA Chrome – Awesome Again" I want you to feel like you're in the winner's circle with CA Chrome. That you can almost see his nostrils quiver, feel the heat coming off of him, catch the gleam of pride and triumph in his eyes. I tried with "In a Heartbeat" to capture that feeling you get when the horses thunder by, that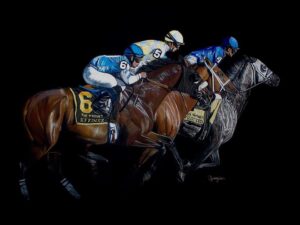 amazing moment in the space between seconds when time feels suspended.
I want to take a moment here to give a shout out to the amazing racing photographers who capture these images in time and give me permission to work with them in creating each painting. So much training, time, expense and talent goes into each of these reference photos and I can't say enough about them. What I do would never be possible without them and I'm very grateful for the relationships and friendships that have developed.
Regarding my interest in racing, my family has been involved with Saratoga for many years, and the love for racing is in my blood.  My Dad and I share racing news all year long, and this year he left his home near Saratoga to join me for the Breeder's Cup. 🙂
RD: Do you enjoy painting horses vs. other things?
SZ: As part of my development as an artist I have drawn other subjects besides horses, and I CAN do that, but it is much more difficult.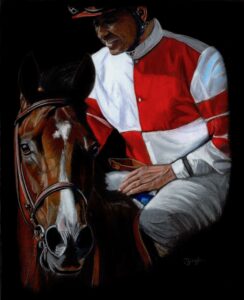 Because of the time-consuming detailed way I work it is very difficult for me to stay focused when the subject is not horses. I have also done jockeys of course, but hadn't attempted a jockey closeup until my recent painting "Songbird and Mike Smith"  I often send prints of my work to the owner (and occasionally trainer and jockey) when I can reach them, and the response has been very warm and positive.
RD: Who are some of your favorite horses to paint, and just in general who are some you like?
SZ: When I first started I couldn't stop drawing American Pharoah. He's just magnificent. Most recently California Chrome and Songbird. They are both so beautiful and charismatic, it is really fun to paint them. But I fall in love with every horse I paint. You can't spend 40+ hours meticulously capturing every detail of their conformation and personality without that happening!
Sue also added the importance of working with thoroughbred charities as a rewarding part of he work, especially those who work with thoroughbred aftercare.  "One of the unexpected pleasures of being an artist has been working with thoroughbred charities.  Especially After the Finish Line and Thoroughbred Charities of America have been awesome to work with and are doing great things to re-home and rehabilitate thoroughbreds after they leave the track.  It's a wonderful thing to feel like I can make some small contribution through art."
All it took was one email for me to realize how much Sue Ziegler cares about our industry.  At the end of the day that is a trait that cannot be taught or learned over time, and it's the most endearing trait of all.  She's great at her work because she cares, and with each horse she's worked with she is able to tell a story with her brush.  If you are looking for an authentic one of a kind piece there is no better place to go.  Make sure to check out szieglerart.com today and see for yourself.  You won't regret it!