Slim Pickins is a new column from RacingDudes.com focusing on how to approach wagering on the biggest races and cards during the weekend. We won't just handicap the races and regurgitate the past performances, but look to provide you an approach when looking at the whole card and where to focus your money, whether it be in multi-race or in-race wagers.
We'll look at bets that can maximize our strongest opinions and how to manage your bankroll. We'll try to keep the total wagers in the $50 range in the article and you can adjust to your budget accordingly. We'll also provide YouTube links to key race replays for your quick review all in one place. Let's jump right into the Gulfstream Park card this Saturday!
Saturday, January 7 at Gulfstream Park
The Saturday cards lately at Gulfstream Park have provided very good opportunities with the Championship meet opening in early December. By leveraging trainer Todd Pletcher's runners in multi-race wagers, pay-outs have been good in Pick-3 and Pick-4 wagers, even with some of these runners going off as the chalk. Pletcher is scoring at a gaudy 32% win rate at the meet (19 wins out of 59 starts, as of Wednesday) and there are very good opportunities to leverage Pletcher's hot hand on Saturday in a mix of stakes and maiden races.
One note: The Grade-3 Hutcheson Stakes has been cancelled off the card due to a lack of entrants and some of the prospective runners have opted to run in the Mucho Macho Man Stakes.
Gulfstream Race #3: Grade-3 Old Hat, 3 year old fillies, 6 furlongs (dirt), $100K
We'll look to leverage a strong single in the first leg of a Pick-3 to get things started in Race 3 at Gulfstream.
#2 BODE'S DREAM (8/5 morning line) looks like a strong stand-out here as she advances along the "Pletcher progression" second off a lengthy lay-off. She looked like one of the top juvenile fillies in the country taking the Astoria in early June at Belmont and was given time off to develop since her owners, St. Elias Stable, had Sweet Loretta and Nonna Mela to target the juvenile filly stakes at Saratoga.
Her easy win in the slop in her return in the non-graded House Party stakes at Gulfstream on December 10 shows she has continued her development with the time off and she looks primed here again.
Bode's Dream beat possibly her top competition in here in #5 WILDCAT KATE (8/1) in her return race showing that she should be able to handle the same 6-furlong distance here over this group. The intriguing combination of Javier Castellano riding for trainer Mark Casse on #4 SUMMER LUCK is something to take note of, but her Brisnet speed figures are not on the same level as Bode's Dream.
STRONG SINGLE: #2 BODE'S DREAM
Bode's Dream win in House Party at Gulfstream:
Gulfstream Race #4: Grade-3 Dania Beach, 3 year olds, 7½ furlongs (turf), $100K
If we're going to single in the first leg of this Pick-3 sequence, then the second leg looks like a place to lean on two horses in #1 KITTEN'S CAT (3/1) and #7 MADE YOU LOOK (9/5).
Both come in showing back class from races last out on Breeders' Cup weekend. Made You Look ran a steady sixth place in the Breeders' Cup Juvenile Turf, but was parked 4 wide on the first turn. Jockey Javier Castellano retains the mount here and tried to tuck in Made You Luck on the backstretch in the BC. When he was produced for the stretch run, he came up empty at the mile distance. He impressively won the Grade-2 With Anticipation rallying up the rail before that off a 2½ month layoff and gets a similar refresher in this spot.
Made You Look is the top choice here and will get weighted more heavily in this Pick-3 sequence, but Kitten's Cat needs to be used on back up tickets. He was closing well to get third in the Pilgrim two-back and was unable to draw into the field of the Breeders' Cup Juvenile Turf. Instead, he ran in the Juvenile Turf Sprint down-the-hill at Santa Anita the next day and exploded in the stretch after getting a mid-pack ride by jockey Luis Saez, who retains the mount here. Trainer Joe Sharp has said he is one of the most impressive Kitten's Joys that he has been around and that he will look to lay off the pace in here. There isn't a very strong pace, though, and he may need to lay closer to the frontrunners than he had done in the Pilgrim where he was too far back to track down top turfer Oscar Performance.
Note: There is rain in the forecast for Friday night into Saturday morning. Kitten's Cat performance in the Pilgrim over a yielding Belmont turf course gives him a boost if the Gulfstream turf is labeled anything less than FIRM.
TOP CHOICE: #7 MADE YOU LOOK
SECOND CHOICE: #1 KITTEN'S CAT
Made You Look win in With Anticipation at Saratoga
Kitten's Cat win in Juvenile Turf Stakes at Santa Anita
Gulfstream Race #5: Maiden Special Weight, 3 year olds, 1 & 1/16 miles (dirt), $46K
Since we're playing the top choices in the first two legs, we'll look to spread a bit in this last leg. This Pick-3 will not be a life-changing score by any means, but hopefully a good bankroll builder, especially if the bet is weighed properly and we hit this final leg with a value horse.
The $1.3 million son of Uncle Mo, #7 MONACO (5/2), headlines the group in his second career lifetime start. He could only muster a sixth-place finish in this maiden race on the Travers day undercard at Saratoga in a salty group that included future Grade-2 Remsen winner Mo Town. He's a big-time prospect for Pletcher and has to be used, even though he will most likely be the favorite. He's put in three straight bullet workouts at Palm Beach Downs for his return.
"The other Pletcher" #4 EXPEDITION (3/1) is a back-up play. #5 TRULY A MOON SHOT (8/1) ran a far back second to top Pletcher prospect Faja on Decemebr 17 at Gulfstream running a mile and this small stretch-out should be fine for him. #2 FIRE FOR EFFECT (8/1) is worth a shot at a price coming in off a troubled trip at Churchill for always-dangerous trainer Dale Romans.
TOP CHOICES: #7 MONACO & #4 EXPEDITION
BACK-UP PLAYS: #5 TRULY A MOON SHOT & #2 FIRE FOR EFFECT
Here's how we'd approach playing the Pick-3 for a $28 total bet, trying to play the favorites a few more times to get a better return of the Pick-3 returns a low amount: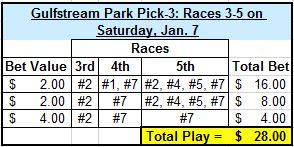 Middle of the card: Analyzing the middle of the card, it looks like there are a few places to make some action plays around #11 Comandeering (9/5) (MORNING SCRATCH) in the sixth for Pletcher and possibly using #5 Barry's Swing (12/1) and #7 Snap Decision (5/1) underneath for a price.
It is tough to trust #6 Tale of S'avall (3/1) and his erratic form in the 7th race, so backing away from that whole scenario and picking your spots in races you are more confident is totally fine. Remember: you don't have to bet every race and betting every race is sometimes a recipe for disaster!
The 8th is another spot to possibly shy away from with a bunch of first time fillies starting on the turf where you can have erratic results, so we'll jump ahead to the 9th and try to hit the stakes double.
Gulfstream Race #9: Ginger Brew, 3 year olds, fillies, 7 ½ furlongs (turf), $100K
The rule for turf stakes is to always include Chad Brown, Graham Motion and Christophe Clement horses. It doesn't matter their odds. Last weekend at Gulfstream, Clement hit with Paige at 21/1 in the Via Borghese Stakes and Motion hit with Ultra Brat at 37/1 in the Tropical Park Oaks. It just happens!
You won't get that type of price with #5 PARTY BOAT (9/2) for Motion here after she took the rained off the turf Wait A While Stakes on a sloppy Gulfstream strip on December 10. Joel Rosario retains the mount and put her in a great spot ot pounce in the stretch in that spot. She had two wins on turf before that showing, one at Keeneland at a longer 1 & 1/16 mile distance, so it's possible this may be too short for her.
#1 LADY ALEXANDRA (6/1) showed the best speed in the Wait A While leading early for Chad Brown, so it is likely she'll be the main pace presence with this slight cut-back here. She hasn't gotten the chance to run on turf yet after her maiden breaker Belmont was rained off the grass in late October. You cannot leave a Chad off your ticket, ever, especially with Castellano up.
Since there's no Clements entered, we'll turn to Pletcher's #3 BAHAMA HALO (6/1) and Casse's #4 CONQUEST VIVI (5/1) as our back-up plays. Drawing a line through Bahama Halo's sloppy Wait A While performance is a good approach here and she's a definite back-up play based on her back class, especially if we can get a price on her.
Conquest Vivi may get a lot of play and may go off the favorite as she is a perfect 3-for-3 lifetime with all three wins coming at Woodbine, but all on the synthetics. She's first-time turf, where surprisingly Casse only scores at 12% in 226 races in the past two years.
TOP CHOICES: #1 LADY ALEXANDRA & #5 PARTY BOAT
BACK–UP PLAYS: #3 BAHAMA HALO & #4 CONQUEST VIVI
Party Boat win in Wait A While
Gulfstream Race #10: Mucho Macho Man, 3 year olds,1 Mile (dirt), $100K
The main event is the showcase for possible horses on the Kentucky Derby trail. The Mucho Macho Man looks to have a lot of horses that want the lead and the pace should be hot. The key may be to identify the horse that wants to sit off the pace and pounce late at this one-turn mile configuration. Six of the horse in here are stretching out, also, so questions about their distance ability will arise.
#11 HEMSWORTH (7/2) romped in his Grade-2 Nashua win breaking his maiden over three over rivals after two horses stumbled out of the gate. Hemsworth took off and never looked back drawing off by 9½ lengths over the Aqueduct strip on November 4 at this same type of one-turn mile. Even though Hemsworth drew the far outside 11 post in here, it shouldn't be an issue with the long run out of the shoot. He's a must use, at least defensively.
#6 CAVIL (9/2) may be the value play in this spot. Even though he broke his maiden on an off the turf 1-mile event at Aqueduct, he improved markedly adding Lasix in his second career start for trainer Kiaran McLaughlin.
Both #9 RECRUTING READY (6/1) and #8 SONIC MULE (6/1) were nominated for the cancelled Hutcheson and will stretch out here to a mile. This may be a bit far for Recruiting Ready so he is a play against.
Questions about Sonic Mule's distance limitations are also abundant, but his dam's sire A.P. Indy does have an average win distance of 8.2 furlongs, so he will be used as a back-up play. Sonic Mule looked like he was finishing strong in his Buffalo Man Stakes win at 6 furlongs on December 10 in the Gulfstream slop, too.
TOP CHOICE: #11 HEMSWORTH
SECOND CHOICE: #6 CAVIL
BACK-UP PLAY: #8 SONIC MULE
Here's how we'd play the Stakes double for a $24 overall bet weighing our strongest opinions: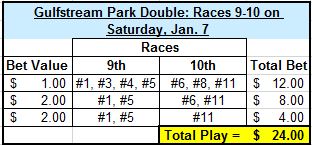 Follow me on Twitter @SaratogaSlim for updates on these picks and news!
Hemworth's win in Grade-2 Nashua:
Sonic Mule win in Buffalo Man: