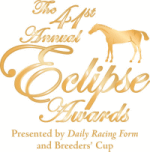 If I had a vote here is what my ballot would look like:
– Horse of the Year – My Miss Aurelia – Let me start of by saying that there is no question in my mind Havre De Grace is going to win this award, and she is deserving.  I'm also rooting for her to win it as she was my favorite horse of 2011.  My vote would go to My Miss Aurelia though.  She could not have been more impressive in her first four races.  We saw her beat the best fillies in her age group, and we saw that she has tremendous raw talent as well as an incredible will to win.  When I think horse of the year, I think "super star."  To me, she was the only "super star" I saw all year.
– Two Year Old Male – Hanson – Union Rags may be a better horse, but you have to go with Hanson here. He's unbeaten, won the biggest race for 2 year olds, and beat Union Rags.  How can you go vote against that?
– Two year old Female – My Miss Aurelia – This one should be unanimous.
– Three year old Male – Caleb's Posse – If you look too long at this division you'll drive yourself crazy.  I landed on Caleb's Posse because of his two Grade 1 victories, which no other three-year old has.  I also think beating Uncle Mo at 7 furlongs was the best performance by a three-year old this year.
– Three year old Female – Royal Delta – Her powerful Breeders Cup Ladies Classic win makes this an easy choice.
– Older Male – Game On Dude – This was a very weak group this year.  I settled on Game On Dude because he was the most consistent.  He was always in the hunt and never ran a "bad" race.
– Older Female – Havre De Grace – There will be a few votes for Blind Luck, but Havre De Grace is the easy selection here.
– Sprinter – Caleb's Posse – Many of the top sprinters faltered at one point or another this year, but Caleb's Posse always delivered at 1 mile or less.  His consistency at the shorter distances makes him an obvious choice for me.
– Female Sprinter – Musical Romance – Kind of  a weak division, don't feel strongly about any of them.
– Male Turf Horse – Cape Blanco – It's hard to separate Cape Blanco and Acclimation.  It could go to either of them and I'd be happy.
– Female Turf Horse – Same as the Female Sprinter, I just don't have much of an opinion on these.  I probably would not even send a vote in on this category.
– Trainer – Todd Pletcher – In my mind this one is a no-brainer.  Right now there is nobody that has it rolling like Pletcher does.  As good as 2011 was for him, I think 2012 will be even better.  His barn is loaded with 3-year-old talent.
– Jockey – Ramon Dominguez – It's hard to pick against this guy, he just keeps on winning.