Horse racing. Amazing four-legged superstars stretched and trained to excel at their highest potential, and yet pampered and coddled as celebrities or pop culture icons. Treated in much the same way as Super Bowl or Olympic athletes, some of these high-powered thoroughbreds even have their own Facebook pages.
Horse racing is big business. Equine heroes such as American Pharoah collect earnings in the millions, but just like pro football or baseball, it's not that easy to become a celebrity. Many colts that are chosen, trained and tested as racehorse hopefuls never make it as a high stakes winner, and those that do risk injury or inconsistency.
So what happens to horses that never break out of the gates to hold the lead, or that remain the long shot trailing the pack? Furthermore, what about those whose noses do cross the finish line out in front, yet still someday reach the end of a successful career? That's what this story is all about.
INTRODUCTIONS
Meet Shannon Larson, and meet Smoken Legacy. One is a riding instructor, and one is a racehorse.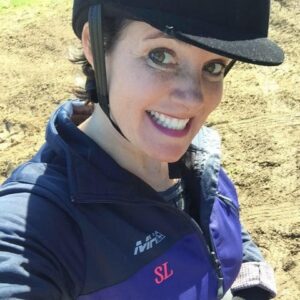 Start with Shannon first. Bright eyed, with blond hair, Shannon began her riding career and fascination with the thoroughbred world as an exercise rider at Waterford Park, Newell West Virginia, at age 16. Now 40, Shannon is a Certified Horsemanship Association (CHA) Level III riding instructor qualified to teach beginning through advanced levels in English and western riding as well as jumping. In addition to coaching her students, and competing a good bit herself, Shannon also proves her overall love for horses by adopting and rescuing thoroughbreds facing neglect, mistreatment or abandonment.
With that brief intro in mind, flash to another scene. This one highlights a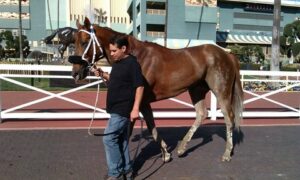 tall slender beautiful chestnut gelding Smoken Legacy, sired by Gainsway Farm's famous Smoke Glacken, and bought as yearling in 2010 to be trained and tested on the track. Smoken Legacy raced from 2012 to 2014 with a combination of wins, places and top finishes in the money. He completed his racehorse career sound and healthy just shy of $100,000 in earnings – not the millions that the racehorse hall of famers can claim, but a respectable amount among of field of "big leaguers" all jockeying for a position on the inside rail.
AFTER THE TRACK – OTTB
In 2013, sometime after crossing the finish line for the last time, Smoken Legacy was sold as an OTTB – code for Off The Track Thoroughbred – and originally went to a farm in Maryland. It is uncertain how long he remained at that first new home, or exactly how many times he was sold, but over the course of the next two years, Smoken Legacy passed through several hands, and after pouring out his heart and soul on the track for two seasons, ended up neglected, unfed, and forgotten in a field or back pasture. This amazing, seventeen hand beautiful equine athlete went from racehorse to rags in a matter of 24 months. Formerly fit with past photos capturing him in full racing attire and stable silks, Smoken Legacy was later found in pitiful form on a Facebook feed as someone located him at the slaughter auction.
Shocked and even horrified at the discovery, thoroughbred owners and those aware of Smoken Legacy's background, rushed to the auction, with cash in hand. They planned to out bid the meat buyers, who would only be paying a fixed price per pound, but it was too late. Smoken Legacy was nowhere to be found.
With a body scale rating of "1" , the lowest score on scale rating of 1-9, Smoke was not even acceptable to be placed on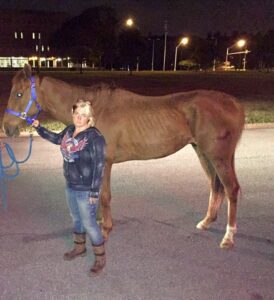 the auction floor, and instead was sold out behind the barn to a meat packing dealer and put on a truck headed towards Mexico. At this point, one might think that the rescue attempt had failed, but the group did not give up, and one lady in particular took the biggest risk of all.
Shannon Larson wouldn't give up. Reaching back to her roots of exercising thoroughbreds, and tapping into her 20 years of industry experience, Shannon collaborated with contacts and managed to reach the driver of a border bound "kill truck" that she only hoped was the truck hauling Smoke. With a promise to pay the driver's expenses, and an agreement to purchase the horse at a rather high price, Shannon persuaded him to take a detour and meet her at a designated location.
At 1:30 a.m. the two parties met and Smoken Legacy hobbled out of that kill truck. He was terribly thin and malnourished with cuts, infected wounds, and a severely abscessed foot. Fungus and ticks permeated his skin and coat. As happy as she was to have actually found and rescued the right horse, Shannon was exhausted from the search and horrified at his deplorable condition.
RESCUED RACEHORSE REHAB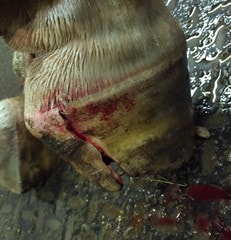 'Smoke', as he was later nicknamed, went home to the barn facilities Shannon was training out of, but he was far from "out of the woods". Immediate and regular skin baths were administered to kill the fungus, and rounds of antibiotics were given to fight off bacteria. However, Smoke's leg was deeply infected and his abscessed foot Abcessed hoof ruptureruptured, causing the hoof to crack down one side. Whether he would ever be truly sound again remained to be seen, but continued treatments, a special diet, plenty of fresh hay, and lots of TLC all helped push the odds of recovery more towards Smoke's favor.
Between the cost for grain and supplements, the veterinary treatments, and the numerous farrier visits, Smoke's recuperation had become expensive. Struggling with all the bills, Shannon sold one of her top mares, taking out a big chunk of her savings and big chance on a horse that others questioned might never be sound. With hopes of recovery, and a determination to see it through, however, Shannon persevered.
During the next several months of rehab, Smoke regained his weight, his coat shine, and the bright look in his eyes. With farrier and vet work, his infected leg healed nicely and despite the trauma to his hoof, he was proving himself sound. Shannon even incorporated him into her riding lessons for the kids. As she says,
"At seventeen hands high, he's a little tall to be the ideal lesson horse, but my theory is that all horses need to be 'kid safe', and they also need to pay their way."
In allowing the kids to care for, and later ride Smoke during their lesson time, all parties were benefitting. Kids were learning about proper care for such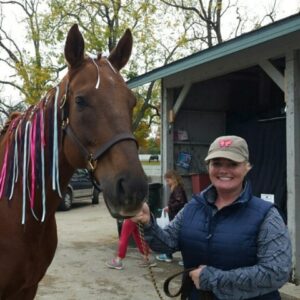 a magnificent animal, Smoke was relishing the attention while adapting to a new job description, and Shannon was giving Smoken Legacy new life.
On October 23rd, 2015, five months after being rescued off a truck headed to slaughter, Smoken Legacy made his debut
at the "Thoroughbred Makeover Symposium", an event put on by the Retired Racehorse Project (RRP). Beautiful, healthy, and sound, Smoken Legacy, with Shannon aboard, performed in the freestyle division commemorating Smoke's recovery and capturing the hearts of both spectators and fans. A poster child of a rescued thoroughbred in many ways, Smoken Legacy became a star that weekend, but his story didn't end there.
RESCUED RACEHORSE RETURNS
Before Smoke's story moves forward however, we need to step back. Step back onto a beautiful rolling acre farm situated beneath the Tennessee mountains just outside of the Cherokee National Forest. Thomas Borthwick resides there with his wife, and they have just given birth. Not to a son or daughter, but to a gangly chestnut colt. Smoken Legacy came into the world in 2009, and Thomas and his wife were the parents of a proud new thoroughbred racehorse.
Giving him their utmost care and attention during those crucial young months, the Borthwicks, weaned Smoke at nine months separated him from his mother Seeno, and put him in with one of their retired standardbred rescues, George. When Smoke turned one year of age he was sold as a yearling racehorse hopeful. Thomas recalls his wife in particular being very sad to see Smoke go and said,
"She made me tell the new owners to call them if Smoke didn't work on the track, or needed a home when he finished racing."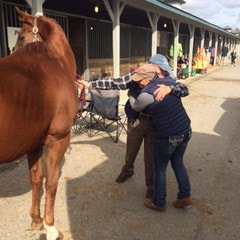 Two years went by and Tom tried calling jockey clubs and tracks to inquire about how Smoke was doing or where Smoken Legacy Tom Borthwickhe might be, but had no luck. There was no word for them about Smoken Legacy's whereabouts until two weeks from the Thoroughbred Makeover when they received a postcard in the mail that mentioned Smoken Legacy would be there. Thomas went directly to his computer and unlike before when he googled Smoken Legacy, this time, an entire page of listings came up. When he clicked on one revealing Smoke's ill fate, Tom was stunned, saying,
"I'm not one that cries, but when I saw those pictures of Smoke, tears just ran down my face."
Making immediate plans to attend the Makeover, Thomas made some calls as well, and connected briefly with Shannon via phone.
It was at the Makeover that they met, and while Thomas and Smoke were reunited, Shannon was able to visit with this couple that shared with her, the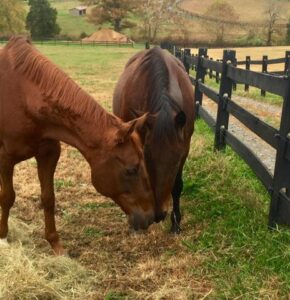 common bond of one very special horse. After talking with Tom, Shannon said it was obvious to her that it was time for Smoke to return to his original pastures.
"I handed Smoke over to Tom," She said. "It's where he belongs, and it was the right thing to do."
Smoken Legacy – Tennessee – BorthwickWith both hugs and tears, Shannon gave Smoken Legacy a permanent home,
and a very happy ending. Returning him to the same fields he once frolicked in as a colt, and where his mother Seeno still lives, Smoke now munches grass side by side with his old buddy George. Smoken Legacy won the race of rescue and recovery, and Shannon awarded him the purse of going home.
RETIRED RACEHORSE PROJECT
Like gallops around the track that bring horses around to where they started, Smoken Legacy's story went full circle. Challenged with an unpromising backstretch, Smoke made a comeback thanks to the help of Shannon Larson and a few others. Capturing hearts along the way, his journey and serendipous ending echoes the classic story of Black Beauty written many years ago. However, not all OTTB's share that same story.
Because horses off the track struggle with finding new "careers", organizations such as Mid-Atlantic Horse Rescue and the Retired Racehorse Project (RRP) exist. These groups educate and gather individuals together in championing the cause for horses retiring from the track. It's organizations like these, and people like Shannon Larson that help prevent stories like Smoken Legacy from ever happening, or help find a happy ending for those that do.
NIXALL® AND THE RACING DUDES
Smoken Legacy's journey, though, reaches out even further. Two corporate entities, each with a passion for horses and the

racing world, decided to combine efforts to ensure happy endings for all racehorse retirees. Nixall® VetResponse, along with the Thoroughbred Racing Dudes, are each doing their part by matching 6% of all Nixall® product sales, and donating those proceeds to the Retired Racehorse Project (RRP). Their unique partnership invites everyone to join with them in efforts to give all OTTB's a chance at life after racing.
HOW YOU CAN HELP RETIRED RACEHORSES
• You can support the Retired Racehorse Project through purchasing any Nixall® product. By using the discount code of 'RRP', Nixall® is offering customers 30% OFF at checkout, and donating 6% to the RRP. Take advantage of 30% OFF, and help horses like Smoken Legacy transition from the track at the same time.
• Shannon Larson continues to rescue thoroughbreds in need of a new home, and in fact, she just recently adopted two new racehorse retirees. If you would like to donate towards the funds Shannon needs to continue rescue efforts, send her a message through Facebook, or snail mail her at: P.O. Box 376, Lima Ohio, 44452.
• Share, make comments, and 'like' these Facebook pages listed below. Share Smoke's story with your friends. As the Kentucky Derby approaches, help others be more aware of racehorses in need after their track days are completed.
"You don't have to throw a whole life away just because he is banged up a little…" -Seabiscuit