The final piece of the 2016 Kentucky Derby pace puzzle has come together with the post-position draw now complete.
The post positions are of utmost importance in charting out how the race will unfold as they make the long run into the first turn of the Churchill Downs stretch. With most of the early speed drawn outside in the starting gate, a moderate to fast pace is even more likely and builds on the pace predictions discussed in Part 2 of this pace thesis.
To recap, in Part 1 the importance of pace was demonstrated by correlating data from the past 15 Kentucky Derbies aligned to Brisnet running styles.
In Part 2 of this Pace Thesis a moderate to fast pace was predicted for the 2016 Kentucky Derby by analyzing historical data.
Now in this final Part 3 of this Pace Thesis, the post positions, early speed and horse running styles will be analyzed from every angle to help predict who can win the "Run for the Roses."
Before we dive into the horses, a brief history of post positions will be evaluated:
Historical Post Position Analysis
Since there are so many horses in one gate, post position analysis is an important part of handicapping the Derby.  For your reference, below is a table showing performance from each post position (1-20) since the use of a starting gate in 1930 including total starts, total 1st place, 2nd place & 3rd place finishes, win % from that post and In The Money % (ITM) (1st, 2nd or 3rd) from that post: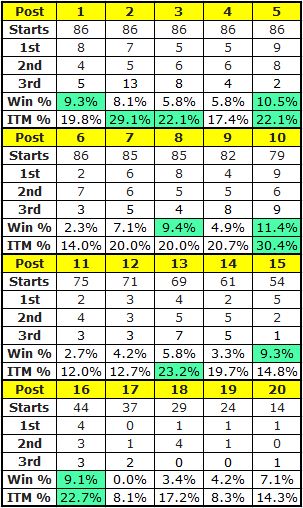 Even though the #1 post position shows a 9.3 win %, any horse that draws the 1 post position is a complete "toss-out." This year maiden Trojan Nation (S3) drew the #1 post and is a complete toss. The rail is the worst place to be since the Churchill chute basically lines up directly with the horse running into the rail. With 19 horses all pushing from the outside into the rail, the horse in the 1 position is in danger of getting hit into the rail to start the race. No horse has won the Derby from the 1 slot since Ferdinand in 1986.
Additionally, a horse hasn't won from the 2 post position since Triple Crown winner Affirmed won in 1978.  Suddenbreakingnews (S0) drew the 2 post and with his drop back closing style will not be as affected as others that might have gotten this draw, but still may get bumped and bruised early affecting his performance later in the race.
The 3 post position hasn't won since 1998 with Real Quiet, so being on the inside is not a great place to be, even though the percentages in the table are skewed due to smaller fields in the past.  Creator (S0) will break from the 3 hole and even though he has been a one-run closer in his past races, trainer Steve Asmussen has discussed that he may be nearer to the pace and may have to use that tactical speed earlier from his inside post.
Another post position to be wary of is the #17 slot.  No horse has ever won from this post position.  Maybe it's just a coincidence, but 37 horses have started from this post without a winner to date.  Mor Spirit (P3) has drawn the 17 hole, but it shouldn't be used against him.
The most favorable post positions are generally believed to be 5 through 16.  Post positions 14 (Mohaymen) and 15 (Outwork) have the advantage of being at end of the main 14 horse gate and the start of the 6 stall auxiliary gate giving these two horses a little bit extra room to break.  This even helps the horses in the 13 (Nyquist) and 16 (Shagaf) post positions to break more cleanly. The highest win and ITM % are highlighted in green in the table above and the 13 through 16 have performed well including wins in two of the last three years from the 15 post with Orb in 2013 and American Pharoah in 2015.
Some would think the far outside posts would be disadvantageous, but since 1999 a total of eight winners have won from the auxiliary gate (posts 15 through 20). In addition to the wins from post 15 discussed above, Big Brown won from Post 20 in 2008, Animal Kingdom won from Post 16 in 2011, I'll Have Another won from Post 19 in 2012.
2016 Post Position Analysis 
Correlating where the horses have drawn to their running styles is a good way to predict how the race will be run early.  The table below shows the Brisnet running styles (defined in Part 1) for each horse entered in the 2016 Kentucky Derby in order of post position (the two Also-Eligible (AE) horses are listed at the bottom of the table):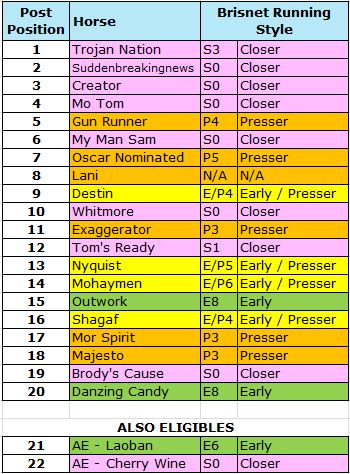 The color code in the table above for the four types of Brisnet running styles (Early, Early/Presser, Presser and Closer) has been used to show where the early speed resides.
The amount of pink color code denoting closers should stand out in the first 6 post positions, since 5 of the 6 inside horses are Closers.  Gun Runner (P4) is the only Presser type on the inside and should be able to clear these inside horses and be able to move over to the rail in the opening stages of the Derby.
The outside post positions are a different story! Five of the eight horses from the 13 post out display Early or Early / Presser style running (yellow and green color code).

Additionally, Mor Spirit (P3) has been very keen in the mornings, working faster and is adding a bigger cupped blinker to focus on more speed early in the race.  Even though Mor Spirit is only rated as a P3 by Brisnet, he may be showing speed early from the 17 hole for trainer Bob Baffert.
2016 Kentucky Derby Horse Running Styles Analysis
Early Pace Setters
As discussed extensively in Part 2 of this Pace Thesis, the importance of the "E8" horses cannot be underestimated when it comes to determining the pace.  The post positions of Outwork (E8) in the 15 hole inside of the main early speed Danzing Candy (E8) breaking from the far outside 20 post may be the key to the whole pace scenario.
In the 20 post, Danzing Candy will load last and will not need to be in the gate for a long time, which is a major benefit since he was fractious in the gate before the Santa Anita Derby. Hall-of-Fame jockey Mike Smith will try to ration out Danzing Candy's speed early, but he has never shown the ability to relax early in races and may "gun it" to clear the field.
Based on Brisnet early pace numbers, Outwork may actually be faster than Danzing Candy from the gate, but there is every reason to believe that his connections may not want the lead in the Derby.  On April 22, trainer Todd Pletcher worked Outwork behind two of his 3-year old stakes stablemates at Belmont. The exercise was to train Outwork to take dirt behind horses and relax. He passed this test with flying colors taking dirt and powerfully overcoming his two workmates in the stretch. This may be most important work of any Derby work since it has major Derby pace scenario implications.
Hall of Fame jockey John Velazquez may be willing to let Danzing Candy clear him and set the pace, but that may come after Velazquez tries to float Danzing Candy out wide into the first turn.  The opening stages of that duel may determine how fast they all go early.  These two vying for the early lead on the outside should support a faster pace than at least the last two years (as discussed in Part 2 of this thesis).
It should be noted that Laoban (E6) is an Also Eligible (AE) for the Derby and if one horse scratches before 9 a.m. on Friday, he would then get the last post to the outside of Danzing Candy.  As an "E6," Laoban will put much early pressure on Danzing Candy and will speed up the pace even more.
Another quick note is that all of this is predicated on both horses breaking well.  As we saw recently in 2014 with Wildcat Red entered as the only "E8" and having a bobbled start that anything can happen out of the Derby starting gate and affect the pace.
Early Pressers 
Breaking to the inside of the two main speeds, the Derby favorite Nyquist (E/P5) will not be far away from the early pace.  Trainer Doug O'Neil said after the post draw that he wouldn't even mind setting the early pace, but this may be "trainer talk" to try to lure others to beat Nyquist to the early punch.  Nyquist has been on or near the lead in all of his races except when he was bumped coming out of the gate in the Breeders' Cup Juvenile, so there is no doubt that he would love to be sitting third or fourth going into the first turn.
Mohaymen (E/P6) has been amped up to run every morning and jockey Junior Alvarado may not be able to keep him restrained early.  He successfully stalked with tactical speed to win all of his races before the Florida Derby and will lie close to the lead breaking from the 14 post to the immediate right of Nyquist. He has been headstrong in some of his races, so it's possible he may even set the pace, if Alvarado allows him to get loose.  As discussed in Part 2, Palace Malice bolted out of the gate after adding blinkers in 2013 and Mohaymen is the most likely candidate out of the Early / Pressers to send early.
Mor Spirit (P3) is only ranked as a Presser by Brisnet, but with the blinker change and training regimen discussed above, there is reason to believe he won't be far from the early leaders breaking from the 17 post.
Even Shagaf (E/P4) will be looking to flash early speed after his bad trip behind a wall of horses taking mud in the Wood Memorial.  Adding jockey Joel Rosario, the connections will be looking to make Shagaf's life easier and avoid the disaster of traffic with dirt in his face in the biggest race of his young career.
Destin (E/P4) will have an easier time of it early compared to the stampede on the outside as he breaks from the 9 post.  There is no doubt he will be fresh off an 8-week layoff and may also flash early foot.
As mentioned before, Gun Runner (P4) will have nothing but closers to his inside and one closer to his outside, so should be able to clear all of these horses early.  His draw and tactical speed may set him up for a great trip running steady fractions and he will be looming throughout.  Gun Runner will be dangerous if any of the horses in the second flight decide to go after the leaders as he will get a jump on the closers.
Pressers
One of the biggest questions in the Derby is: "Where will Exaggerator (P3) sit early?"  Exaggerator has recently changed his running style to be more off the pace and make one big run late, as he did winning the Santa Anita Derby into the hot pace set by Danzing Candy.  Earlier in his career, he had been nearer to the early pace.  Most likely, Exaggerator will be at the back end of the third flight and in front of the deep closers after moving over from his 11 post.
Even though Whitmore (S0) is rated a closer by Brisnet, it is likely that he sets up shop in front of Exagerrator breaking to his inside in the 10 post.  With jockey Victor Espinoza hired, there is no way his connections are giving the Triple Crown winning jockey instructions to lay back.  Trainer Ron Moquett has said that he will not be as far back as he was in the Arkansas Derby after clipping heels early.
Breaking from the 18 post position, Majesto (P3) will look to find his way over into mid-pack to get a decent spot ahead of the deep closers. He did his best running on the rail late in the Florida Derby, but has shown the ability to stalk earlier in his career.
If anybody tells you that they know what Lani (N/A) will do, then they are probably a pathological liar.  No one knows! After watching all of his races in Japanese, my wife gave me a very strange look and left the room saying, "Wow, you are crazy!"  Crazy is word that has been used to describe Lani lately too.  He has one of the best Derby pedigrees in the field, but it's anyone's guess if he will break well from the 8 hole or more likely break awkwardly and affect every horse around him!  From watching his races, he has shown the ability to close from way out of it and also stayed nearer to the pace early in his career.  One thing is for sure, he will make one big move either early or on the far turn.
Another question is where Oscar Nominated (P5) will sit early taking to dirt for the first time and having shown stalking tactics to win his past two races.
Closers
The five closers on the inside Trojan Nation (S3), Suddenbreakingnews (S0), Creator (S0), Mo Tom (S0) and My Man Sam (S0) won't all be shuffled back early.  Of those five, look for Creator and My Man Sam to show the most early speed and get a good spot behind the mid-pack horses.  After his first maintenance work on April 25, trainer Steve Asmussen said he may be able to apply Creator's speed differently in the Derby, so he may be more forwardly placed shooting out from the 3 post.
There will be no lack of one-run closers sitting back of the pack into the first turn as Tom's Ready (S1) and Brody's Cause (S0) will join the inside closers from the 12 and 19 posts, respectively.  Tom's Ready may have the ability to show a little bit more early speed to keep up early.  The outside post for Brody's Cause is a bit concerning for the two-time Grade-1 Stakes winner. Jockey Luis Saez may opt to make a quick move right to the rail to stay out of trouble early with so many speed horses breaking around him to start the race.
In total, 8 of the 20 runners are ranked as S-type closers.  This is by far the most closers (by Brisnet ratings) entered in a Derby in the past 8 years.
Predicting the 2016 Kentucky Derby Pace
As discussed thoroughly in Part 2 of this thesis, a moderate to fast pace is a likely outcome due to two "E8" horses being entered and the amount of early speed from those showing Early or Early / Presser running styles.
Additionally, a faster pace is not totally contingent upon both Outwork and Danzing Candy breaking well and dueling early.  With Mohaymen, Nyquist, Shagaf and even Mor Spirit all on the outside, horses will need to show speed early to secure good positions into the turn after the first 3 furlongs of the race.  If all of these horses show this type of speed, a "pace meltdown" may occur and allow mid-pack horses and closers to get up in the final strides to hit the board.
Predicting a blazing fast pace in this year's Derby is not logical, but the pace should definitely be faster than the past two years.  An all-out blazing fast pace is not likely since in this Derby points system era, pure sprinters are not making the gate and speeding up the pace.
The past two years have been very slow paces, but also had a lack of pure E8 horses. This year's pace should not be as fast as the sprinter-induced paces of past years, but should be faster than the past two-years when less speed was entered and "E8" types were not prevalent.
Finding a 2016 Derby Winner
Trying to find a Derby winner by Brisnet Run Style may be a way to sort all of this out!  The chart below shows what Brisnet Run Style was displayed the most by the Derby winner for the past 15 Derbies coming into the race: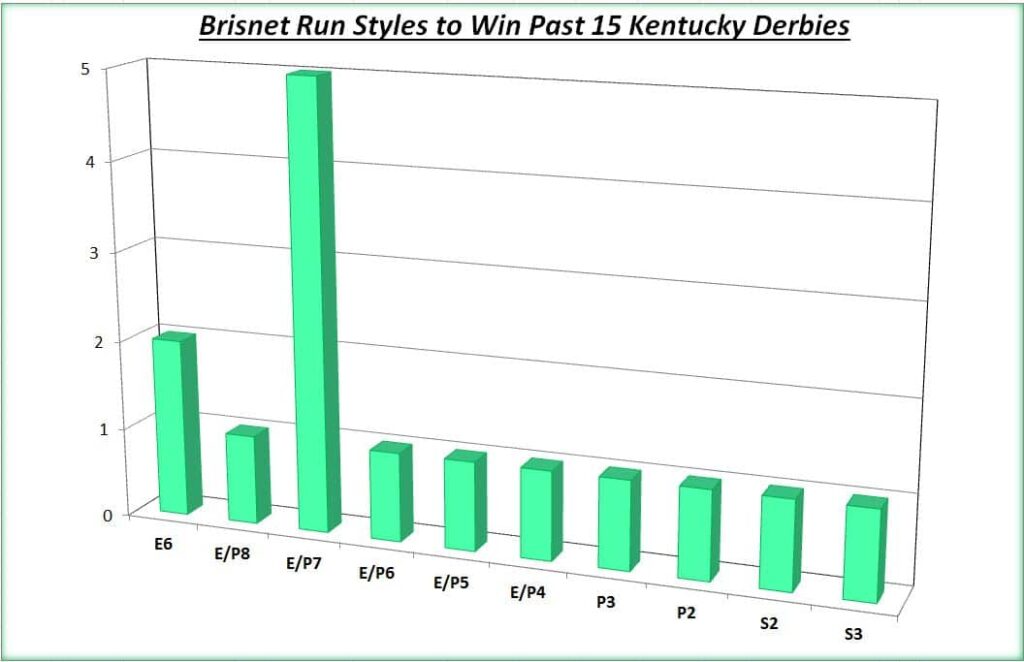 Nine of the past 15 Derbies were won by horses showing the Early / Presser run style with speed points between 4 to 8.
Based on this analysis, the most likely winner is Nyquist because of his E/P5 run style, his speed points and the expectation that he will be able to relax off the pace better than Mohaymen.  Shagaf and Destin would both fall under this criterion as possible winners as E/P4 types.
Still with a faster pace expected than the last two years when the race was won by E/P7 types (both California Chrome and American Pharoah), it may be more likely that a Presser has a better chance to win if they are able to stay out of traffic early and make one huge move on the turn from mid-pack and sustain that run.
The best candidates to take advantage of a moderate to fast pace would be Exagerrator (P3) and Gun Runner (P4).  Besides the pace reasons, they are strong candidates to win for the reasons below:
Both have built strong foundation as 2-year olds.
Both have consistent Brisnet Speed figures this year.
Both have shown sustained runs over long distances as evident by their E2 and LP Brisnet speed figures.
Both come into the Derby showing good form winning Grade-1 stakes by 6¼ and 4½ lengths, respectively.
Both are classy horses running against some of the top horses in the crop (even though some will question the Fairgrounds crop that Gun Runner has beaten).
As stated before, with a moderate to fast pace expected, they have both been able to show tactical speed and should be nearer to the pace.
They should "get the jump" on the group of 8 deep closers.
Part 3 Conclusion & The Picks
If you read all three parts of this Thesis, thank you for dealing with my crazy thoughts and theories!  You deserve to hear my picks.
In the end, I am picking Exaggerator to win the 2016 Kentucky Derby!  Calling myself Saratoga Slim, this is a "homer" play, even though Exaggerator is a West Coast horse.  I am extremely biased because I had the pleasure to watch Exaggerator win the Grade-2 Saratoga Special standing by the rail.  He split horses as a young 2-year old and bulled his way in the stretch showing the desire to win.  I turned to a few friends on that beautiful August 16 day and said, "That's my Derby horse."  Almost nine months later, I'm not backing down from that statement.
I am not going to stray too far from using Nyquist on my plays, though.  So yes, I have picked the top two choices on the morning line! Keying on those two, I will definitely be including Gun Runner for the reasons stated above.
I was backing both Creator and Brody's Cause as plays underneath, but am concerned a bit by their post draws, so will use them lightly now.  My two price plays underneath will be My Man Sam and Majesto.
Good luck to all and feel free to follow me on Twitter @SaratogaSlim to hear more of my crazy thoughts during the weekend!

GET OUR KENTUCKY OAKS/DERBY WAGERING GUIDE
Purchase our ONE MONTH PRO PACKAGE anytime before or on May 7th and receive our full card KENTUCKY DERBY TIPS and PREAKNESS TIPS for no additional charge. As an added bonus you will also receive our exclusive 20-page KENTUCKY OAKS/DERBY WAGERING GUIDE ($25 value). This standalone product contains horse capsules for each of the horses running including: Jockey, Trainer, Morning-Line Odds, Running Style, Last 5 Races, Pros, Cons & Bottom Line along with wagering strategy including trifecta, superfecta and Oaks/Derby double approach. We've also included historical pace analysis including late pace numbers to help pick longshots to hit the board. If that's not enough, this guide includes the running styles for the last 15 Kentucky Derby winners, a Kentucky Derby workout report and picks for the Oaks and Derby from multiple professional handicappers.
Click image for sample excerpt or download now with valid purchase.
Our full card KENTUCKY DERBY TIPS are now available for download. Those that purchase our PRO tipsheet for May 7, 2016 will be eligible to download our exclusive 20-page Kentucky Oaks/Derby Wagering guide.