The key to being successful in life is surrounding yourself with great people. I learned this long before the running of the 143rd Kentucky Derby, but the race reaffirmed it.
Last Saturday, three dudes who love racing teamed up to hit one of the biggest Derby trifectas in the last 20 years. How we were able to hit involved a lot of different factors and a little bit of luck, but the main factor is easy: Good Friends! Jared and I may have not perfectly handicapped this year's Derby perfectly, but with some help from friends and Jared's great bet structuring, we pulled off a major score.
This was not a Kentucky Derby that I wanted to heavily bet. In fact, if it wasn't for an idea that a friend of ours had, I can honestly say that I wouldn't have bet much at all. That friend, Ryan Stillman, is best known as the guy who created our podcast theme song. Ryan's also written a few articles for the website, and last year, he helped us with our onsite coverage of the Breeders' Cup. The Thursday night before the Derby, Ryan sent a text saying that we all should go in together and bet the Derby. On Friday, that text turned to phone calls. By Saturday, we had each put $100 into the pot with the idea of focusing all of our attention on the Derby itself. Ryan pushed hard to make this happen, and without him doing, so none of what happened would've ever come to light.
New Subscriber Bonus: Access our Top 10 Wagering Angles in Racing to see exactly what we look for when opening up the past performances.
Before I continue, the story of how we met Ryan is an amazing one. The first time the Dudes visited California was for the 2012 Breeders' Cup at Santa Anita. We made shirts with our business logo the week before leaving for Santa Anita. Ryan was also at the track, and when he noticed the matching shirts, that sparked up a conversation. A year later, when we showed up for the Breeders' Cup once again at Santa Anita, he reached out to us, and we became even better friends. Now, whenever we go to California, seeing Ryan and his wife, Randa, is the highlight of the trip. Oh, there's that part about Ryan officiating Jared's wedding, too. Yeah, that happened!
It's also worth mentioning that, without ever meeting Ryan Stillman, there's very little chance that we would've ever met the legendary Jon White, Santa Anita's longtime morning-line oddsmaker. Ryan and Jon were good friends before the Dudes ever came into the picture, and Ryan introduced him to us. So, in a way, the great quality podcasts with Jon White over the past two years are direct results of Ryan. Obviously, Ryan's important to this story!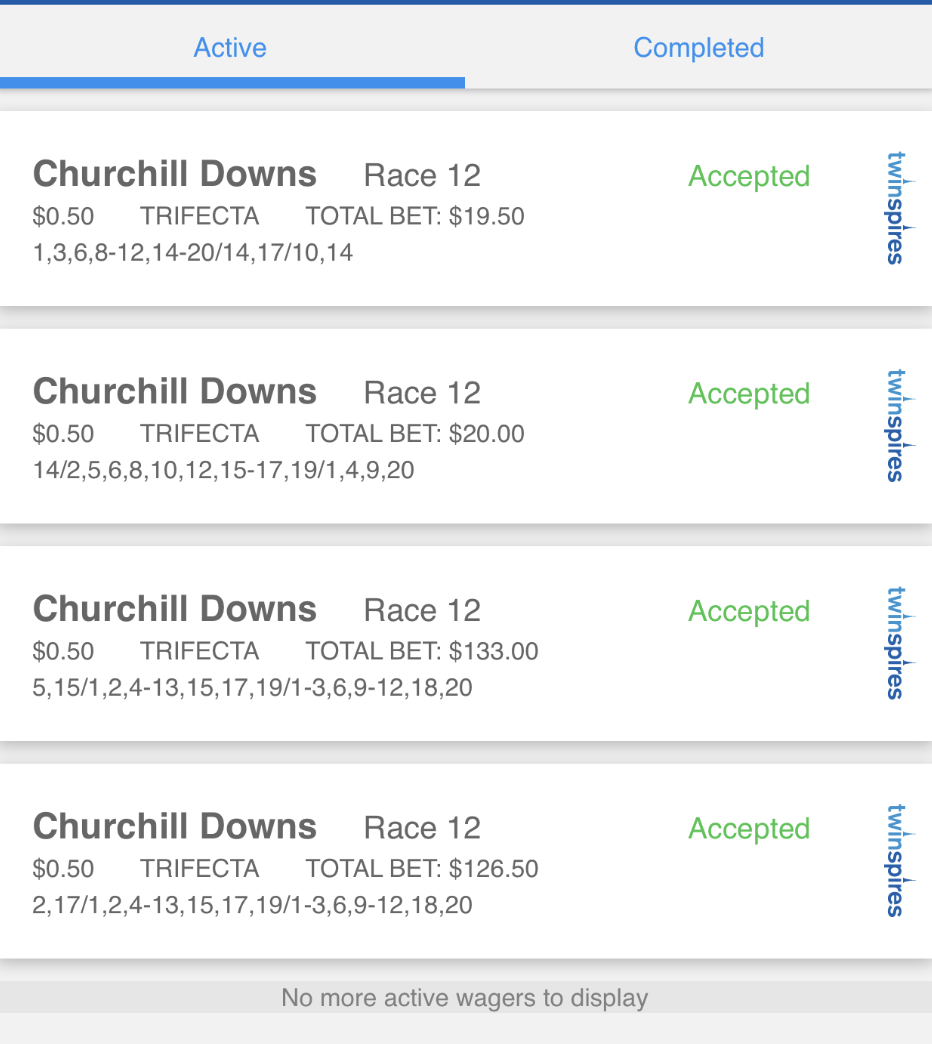 Back to the tickets. Our strategy was simple: play a few horses in the top spot and spread like a madman in the second and third spots. We said for weeks to anyone who would listen (and on the podcast) that only 4 or 5 horses truly had a shot to win, but that ANYONE could hit the board. That's exactly how Jared structured our tickets. We also played one small saver ticket, just in case of an upset on top, giving us a total of four tickets.
As I stated in the opening paragraph, it isn't like Jared and I handicapped this race perfectly. In fact, we didn't do that well at all. Jared's top choice, McCraken, finished 8th after a tough trip, while my top pick, Irish War Cry, finished 10th with a perfect trip. Pathetic, and yet, not a killer. The lesson here is that your betting structure and how you bet matter just as much as how well you handicap. Our strategy was simple: I told Jared to not let five horses beat us on top – Thunder Snow, Always Dreaming, Irish War Cry, McCraken, and Classic Empire. How he structured underneath, I left completely up to him.
Thunder Snow and Always Dreaming were horses we didn't even particularly like, but once again, this is where surrounding ourselves with great people came into play. Ryan may have pushed us to bet, but it was Saratoga Slim (follow him on Twitter @SaratogaSlim) and our premium picks partner, Guaranteed Tip Sheet, who helped us the most with handicapping. Saratoga Slim worked tirelessly for weeks on our 2017 Kentucky Derby Wagering Guide and loved Always Dreaming, who was also the consensus pick on Guaranteed Tip Sheet. No way were we going to let that horse beat us. Without listening and respecting these two opinions, we would have surely lost because we didn't care for Always Dreaming like they did. As for Thunder Snow, well, anytime that Jon White speaks, we listen. Sure, Thunder Snow was a total disaster, but no way were we letting Jon's top pick beat us. Thunder Snow may have let Jon down in the Derby, but he's correct a lot more than he's wrong, so we'll roll the dice with his ideas anytime.
With our top horses in place, Jared crafted the underneath horses with a flurry of activity going on around him. We hosted a Kentucky Derby party, and while he was busy making us a $4,100+ winning ticket, I was passing around a cup with 20 numbers in it for our mostly non-racing friends and family as a fun Derby game. Jared showed me the two bigger tickets that he had put together and I quickly approved. Next, I told him to play Classic Empire heavy in a couple of small saver tickets because he'd left him completely out in our two big tickets. Leaving out Classic Empire seemed like a dicey move to me, and looking back, this was our lucky break – he was tremendous in the race, but a terrible trip cost him. However, Jared played it with the idea that if one of the big three favorites (Always Dreaming, Irish War Cry, and Classic Empire) wasn't going to fire, it would be Classic Empire. He also figured that we needed one of those big three to finish off the board in order to maximize our profits. Luckily for us, we had TWO off the board.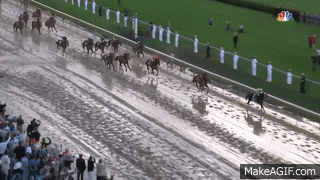 As the horses come down the stretch in the Kentucky Derby, it's a bit of panic because your mind scrambles to figure out who is who in the 20-horse cluster. Always Dreaming hit the line first, so we knew we were alive, but when Lookin At Lee finished second, we thought we were dead. We knew we had Lookin At Lee somewhere in the tri, but we were worried that we only had him in the bottom leg. When Battle of Midway got third, we knew we were okay there. IF we put Lee in the second spot, then I knew we had it, but why in the world would Jared put him second? We'd hated on this horse through the entire prep season because he seemed to always do no better than third against top-level competition. There's no way he had him.
Jared scrambled to find the tickets. After spending weeks looking at the lineup and then playing so many horses underneath, we couldn't remember who we'd played where. Then he pulled up the screenshot and said those magic words: "We have the 1 in the second spot!" He didn't have to confirm we had the 11 third; I knew we'd hit it! When we saw the final odds, we knew that the payout was going to be HUGE. Then BOOM, the payouts appeared on TV, and we knew that Jared had constructed an historic trifecta: over $4,100 on a $.50 bet. The celebration was on in a BIG way.
143rd KENTUCKY DERBY

For the first time in race history, both the 2nd & 3rd place finishers were sent off at odds of 30/1+… pic.twitter.com/jRLHL4ZFOz

— Racing Stats & Info (@GaryDougherty) May 8, 2017
I'd rather be lucky than good any day of the week. As handicappers, we sometimes ignore the element of luck, but trust me, it's always there. For instance, if Classic Empire finishes third, then we would've lost every single bet. Wagering on horses is about maximizing your value while taking a stand. We did that on Saturday, and the results worked out in our favor. The lesson learned is simple: Handicapping is only part of the equation. Betting structure is the other part, and a crucial part at that. Our handicapping wasn't great, but Jared structured the tickets to where we just had to be "sort of right," and it came in how we needed it.
Without question, Jared, Ryan, Slim, Guaranteed Tip Sheet, Jon, and I all played a part in this big-time score. A big thanks to everyone who helped make it happen!