It's starting to get redundant. West Coast horses getting perfect training conditions all winter long and shipping into Churchill Downs and dominating on the first Saturday in May.
The past three Kentucky Derby winners (Nyquist, American Pharoah and California Chrome) all trained on the West Coast prior to wearing the roses under the Twin Spires. Additionally, horses making up the Derby exacta last year (Exaggerator) and trifecta in 2015 (Firing Line and Dortmund) all trained on the left coast to prep for the Derby.
Mother Nature may be getting tired of this West Coast dominance, though, and decided to make things interesting this year by dumping 11 inches of rain on Santa Anita Park in Arcadia, California, in the first month of the year.
That's thrown the proverbial wrench into many of the plans of the West Coast's top trainers, as many have scrambled to get their top stars training time to keep up with the grueling rigors of the Derby trail.
For example, one of the top West Coast Derby prospects, Grade-1 Los Alamitos Futurity winner MASTERY, was only able to get in two officially timed workouts in January for Triple Crown winning trainer Bob Baffert.
The weather also was the main culprit causing the short field of only five horses in the Grade-3 Robert Lewis to start February, which gives out important Derby points and has been used as a jumping off point for recent top Derby competitors like Dortmund and Firing Line.
It may seem that the balance of power on the Derby trail has shifted to the East early in the year, but as the days start turning to spring, the best in the West may soon again rise to the top of the Derby crop.
The Big Three
The aforementioned Mastery, along with stablemate AMERICAN ANTHEM and Grade-1 Frontrunner winner GORMLEY, make up what's being touted as "The Big Three" Derby prospects on the West Coast.
American Anthem doesn't have a Grade-1 win to match the other members of this top group, but his Grade-3 Sham battle in only his second career start to get second behind Gormley has boosted American Anthem into the upper echelon of Derby hopefuls. Sired by Bodemeister (second in the 2012 Kentucky Derby) and out of an A.P. Indy mare, American Anthem should continue to progress with added distance and more racing experience.
Baffert is looking to split up Mastery (sired by Candy Ride) and American Anthem for their next starts, possibly targeting one for the Grade-2 San Felipe and shipping one to Oaklawn Park to contest the Rebel in March.
Gormley returned off a disappointing seventh-place finish in the Breeders' Cup Juvenile to win the Sham to start the year. Trainer John Shireffs has been targeting the Malibu Moon colt to the Grade-2 San Felipe on March 12 as his next start. Shireffs has said that Gormley is the type of horse that needs to keep training and hasn't gotten a break since the Breeders' Cup, unlike a lot of horses in this crop.
Lewis Recap
The Big Three stand strong right now, but the emergence of two lightly raced colts on the Santa Anita card on February 4 may start the next wave of Derby hopefuls as the sun starts to shine again on the San Gabriel Mountains and "The Great Race Place."
ROYAL MO won the aforementioned Grade-3 Robert Lewis showing that even though there was a short field, a solid Derby contender may emerge from this Derby points race. Royal Mo went gate-to-wire and turned back the attempt of maiden IRAP at the top of the stretch to draw off by 3 lengths. The son of Uncle Mo now has two wins and two second-place finishes in his four career starts only losing to highly touted Baffert trainees BEACH BUM and IRISH FREEDOM.
Royal Mo also is trained by Shireffs and has the same owners as Gormley in Jerry and Ann Moss, who won the Derby in 2005 with Giacomo. Shireffs will most likely try to separate Royal Mo and Gormley in future races to try to give them the best chance to both get to the Derby.
One race before Royal Mo won the Lewis, Baffert's REACH THE WORLD won impressively to break his maiden at the same 1 & 1/16 mile distance as the Lewis. When HONOR AND COURAGE challenged Reach the World at the top of the stretch, the Baffert-trainee dug in and drew off. That's always a good sign to see a young horse repel an opponent when confronted early in his career, so the well-bred son of Tapit has plenty of upside. Out of a Galileo mare, there is no lack of stamina influence for this colt that Baffert described as "big and gangly" saying he's looking for more distance in his next start.
The third-place finisher in the Lewis, SHEER FLATTERY, had beaten Honor and Courage by a nose in December, so that provides some comparison between Royal Mo and Reach the World, since they beat these horses respectively on the February 4 card. Also, Royal Mo ran the same 1 & 1/16 miles almost one second faster than Reach the World only a half hour earlier. Therefore, Royal Mo may not be getting a lot of respect right now, but his Lewis win was indeed solid.
Bella Break
We take "this break in your regular programming" to discuss the possibility of a filly trumping all her male counterparts with rumblings (mostly on social media) that the awesomely impressive UNIQUE BELLA may join the Derby fray.
After romping over a short field including juvenile fillies champion CHAMPAGNE ROOM in the Grade-2 Las Virgenes on February 5, questions have started to swirl if her connections would look to race her against the boys. Unique Bella received a 98 Beyer speed figure (highest of any three-year old in 2017 regardless of gender) in the Las Virgenese without even being asked by jockey Mike Smith.
Hall-of-Fame trainer Jerry Hollendorfer said after the race, "I'd like to keep her in California just like I did with (2-time Eclipse champion) Songbird. There's enough money to run out here and run against the girls, not the boys. I think we'll try to run here and if we'd be fortunate enough, we'd point to the [Kentucky] Oaks."
Unique Bella is owned by the Don Alberto Stable and their racing manager Fernando Diaz-Valdes said, "I think it's too early to say. We'll have to take a look at what is happening around the country. I'm told I should go to the Kentucky Derby, when the time comes, but we'll see."
Don Alberto Stable also owns the previously mentioned Reach the World, so if he advances on the Derby path, that may make their decision easier.
Unique Bella is regally bred as the daughter of Tapit out of 2010 Breeders' Cup Ladies Classic winner Unrivaled Belle. She also is Triple Crown nominated (unlike Songbird last year).  If she joins the Derby trail, all males in the crop will need to take notice. Her connections could take a shot to get Derby points in the Grade-1 Santa Anita Derby to start April.  Even if she is unsuccessful against males so early in her three-year old season, she still will likely have enough points to qualify for the Kentucky Oaks, especially if she races in the Grade-2 Santa Ysabel on March 4 against females.  The next few weeks and months will be very interesting to follow the future path of this blossoming star filly.
Who's Up Next Out West?
Continuing down the Derby trail without the fork in the road that Unique Bella would introduce, we go back to discussing the Bafferts in the group.
Another top Baffert charge, DABSTER broke his maiden in mid-January at Santa Anita beating his stablemate Reach the World. Sired by Curlin, Dabster should have plenty of distance pedigree, but needs to not run as "greenly" going forward, as he was disqualified from first and placed fourth in his debut.
SO CONFLATED was placed first in that key maiden race against Dabster and is another to watch. Trained by defending Kentucky Derby trainer Doug O'Neil, So Conflated returned off that maiden win to split horses impressively after being boxed on the turn and got up late in the California Derby at Golden Gates over the synthetic track on January 21. With a win like that, he may be a strong candidate to use the Grade-3 El Camino Real Derby to get some Derby points on February 18.
If you're interested in Cal-breds, ANN ARBOR EDDIE has beaten CALIFORNIA DIAMOND going head-to-head in both the King Glorious at Los Alamitos in mid-December and at the end of January in the California Cup Derby. They both may be looking to step up into open company in their next starts.
Other Derby prospects that were big names as two-year olds include:
KLIMT – Grade-1 Del Mar Futurity winner is off the Derby trail and will get rest after switching over to Derby winning trainer Art Sherman from Baffert in the Kaleem Shah trainer swap to end 2016.
BEACH BUM – One of the top stars to end 2016 for Baffert, but had some injury concerns and hasn't trained recently, BEACH BUM also was not nominated to the Triple Crown.
BIG GRAY ROCKET – Another trained by Baffert and sired by Tapit, finished the year running fast early fractions in the Grade-1 Champagne to finish fourth in October after shipping to Belmont Park. Was a veterinarian scratch out of his return race on February 2 at Santa Anita, so we'll have to see if he returns soon.  SORRY ERIK won the mile-long allowance after Big Gray Rocket scratched for trainer Keith Desormeaux and Big Chief Racing, the same connections of 2016 Santa Anita Derby winner Exagerrator.
IRISH FREEDOM – Another for Baffert who broke his maiden way back in August at Del Mar. The son of Pioneerof the Nile returned to the worktab to end January. He had not recorded an official work since September, so he'll have to catch up quickly to hit the Derby trail.
Next Big Prep
Our next stop to see how the West Coast Derby prospects are coming along will be in the Grade-2 San Vicente this Sunday, February 12. Run at the one-turn sprint distance of seven furlongs, the San Vicente is the perfect race to "sharpen" a young horse to get ready for the rigors of the Derby trail, an "old school" technique used successfully in the past by many Triple Crown winning trainers.
The importance of the San Vicente will get more focus this year after last year's eventual Kentucky Derby top two finishers, Nyquist and Exaggerator, both started their Derby trail by finishing one-two in the 2016 rendition of this race.
ILIAD will headline this year's group after breaking his maiden at Los Alamitos at six-furlongs in mid-December. The son of Ghostzapper was another that was transferred from Baffert to O'Neil by owner Kaleem Shah to end last year.
BATTLE OF MIDWAY will look to progress off his impressive maiden win in his debut race at six-furlongs in mid-January at Santa Anita. Unraced as a juvenile, the Smart Strike colt will need to progress quickly to get on the Derby trail for Hollendorfer.
Other top names nominated to the San Vicente include:
AQUAMARINE – Maiden winner in his debut for Baffert and owners Zayat Stables, unraced as a two-year-old
HOT SEAN – Second behind impressive Gunnevera in the Grade-3 Delta Jackpot last November, but Baffert has said he will keep him to sprinting.
BIG HIT – Third in the Sham last out, thirteen lengths back of Gormley and American Anthem.
The intrigue in the San Vicente may come from the shipper CLASSIC ROCK, though. Training at Gulfstream Park in Florida, Kathy Ritvo has flown her Maclean's Music colt cross-country to contest the San Vicente.
Last out, Classic Rock won an allowance optional claimer at Gulfstream to start January over the well-regarded BEASLEY. Beasley in his next race pushed top Todd Pletcher-trainee BATTALION RUNNER to the limit on February 3, getting second in an allowance race and now both are looking to enter the Grade-2 Fountain of Youth next month.
Additionally, Classic Rock ran fourth in a key maiden race at Keeneland in October behind eventual Smarty Jones winner UNCONTESTED and second-place Grade-3 Lecomte finisher UNTRAPPED. Classic Rock's performance in the San Vicente can be used as a class barometer in this East vs. West Coast Derby contender discussion as West Coast trainers hope the rainy days start to evaporate into the past.
In summary, here's my 2017 Kentucky Derby rankings for horses training on the West Coast as of February 7: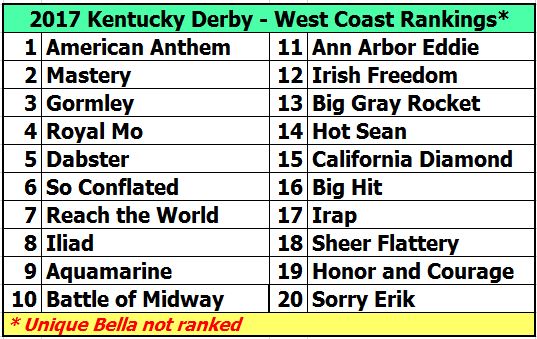 For updates along the Derby trail, please follow me on Twitter @SaratogaSlim. Here's a look back at last year's San Vicente to remember how good Nyquist was to start 2016: