ARCADIA, CA – Hall of Fame trainer Bob Baffert's Kentucky Derby hopeful Justify lived up to the hype yet again on Sunday when the chestnut colt romped over four other 3-year-olds by 6 1/2 lengths in a $56,000 first condition allowance race at Santa Anita.
A Kentucky-bred colt by Scat Daddy, Justify was brilliant in a 9-1/2 length beatdown going 7 furlongs on February 18, after which Baffert proclaimed, "It's not too late," in reference to a possible start in the Run for the Roses on May 5. He followed up that effort on Sunday by successfully stretching out to a flat mile, breaking from the far outside on a track listed as muddy and finishing in a swift final time of 1:35.73. What makes the story even crazier is that the lightly-raced horse closed Pool 3 as the favorite individual interest at 6-1, even over the likes of Bolt d'Oro (7-1) and McKinzie (9-1).
"I hate to compare him to other horses right now, but doesn't he remind you of an Easy Goer way back in the day?" asked jockey Mike Smith, who took over from Drayden Van Dyke. "Just a big 'ol red horse with a big, powerful stride. The distance didn't seem to bother him. I know that was just a mile, but he could have galloped out another 1/4 of a mile if he had to."
Justify's win improved his record to a perfect 2 for 2, winning those starts by a combined 16 lengths and only further adding to the hype of this $500,000 Keeneland September yearling.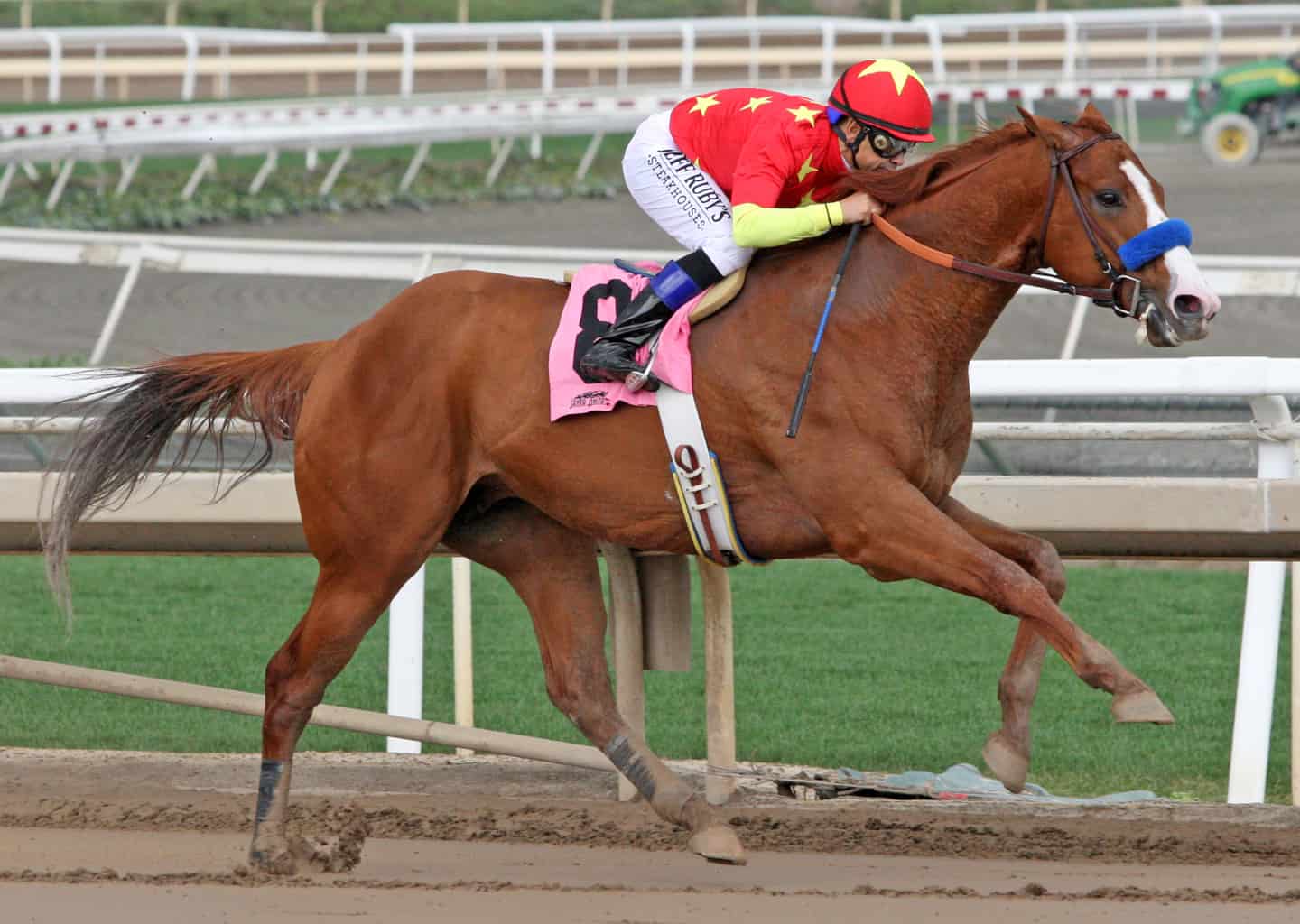 "That was extremely impressive," said Smith, who did all the talking with Baffert on an airplane to Ocala, Fla.  "He passed the two turn test with flying colors…For a young horse, he has a great mind.  That might allow him to catch up (on the Derby Trail) even sooner than a normal horse, because of the talent and the mind to go with it.
"That (acceleration around the far turn) came so natural.  He switched leads and naturally opened up his stride and was two in front.  I was like 'Wow.'  I didn't ask him to move and he just did that extremely easily.  He came off that turn like it was a stroll.  Just very, very impressed."
Justify got a Beyer Speed Figure of 101 for his allowance victory on Sunday at @santaanitapark. So he's topped 100 in both starts; got a 104 in maiden sprint debut. #derbywatch

— Jay Privman (@DRFPrivman) March 12, 2018
"I have no idea about what's next for him," Smith said. "I'm just blessed to get on him. I'm very, very blessed with China Horse Club and all of the owners involved. WinStar, which has won Belmonts, Breeders' Cup Classics, Oaks, and now to have a horse like this… the sky's the limit hopefully. Good Lord willing, he stays healthy and sound and continues to improve. And believe it or not, there's room to improve. He's just going to get better, I believe, if all goes right."
Owned by China Horse Club, Head of Plains Partners, LLC, Starlight Racing and WinStar Farm, Justify went off as the heavy 1/20 favorite and paid $2.10 each to win, place, show.