A dense fog has now engulfed the Kentucky Derby Trail, as it's tough to see what lies ahead on our journey to Louisville.
The wins by Girvin in the Risen Star, J Boys Echo in the Gotham, and Gunnevera in the Fountain of Youth have left early Trail favorites like Mo Town, El Areeb, and Irish War Cry as questionable Derby winners moving forward.  Combined with the minor injuries to top juvenile performers Classic Empire and McCraken, this series of developments has left many fans and handicappers scrambling to tab a strong Kentucky Derby favorite.
The light at the end of the Trail (or maybe just around the next turn) may come in the form of Triple Crown-winning trainer Bob Baffert's top two prospects, Mastery and American Anthem, hitting the races the next two weekends.  Read more about their future runs in the San Felipe and Rebel Stakes in Part 1 of this two-part series here.
At the same time, Todd Pletcher, the winningest trainer of all time, will saddle a strong candidate, Tapwrit, in the Tampa Bay Derby this weekend, with the possibility that Third Day may emerge in the same race.  Along with the potential star power of One Liner, Battalion Runner, and Always Dreaming all looming for Pletcher in 100-point races, there is hope that someone will emerge as a strong Derby favorite over the next few weeks.
Looking further down the road to Kentucky, many more Bafferts and Pletchers may emerge that need to be closely evaluated, so let's get look at when we may see these Derby prospects chronologically:
Important Allowance
We pick up from Part 1 focusing on an allowance optional claimer at 1 1/16 miles on Thursday, March 9 at Santa Anita (Race 7), as Baffert has entered two of his top three-year-olds, including Reach the World and Irish Freedom.
Reach the World can be "any kind."  Unraced at two, he started his career with a third-place finish behind his stablemate, Dabster, at a mile in mid-January.  His return race on February 4 was an eye-catching maiden-breaking win at 1 1/16 miles on the Santa Anita dirt.
Reach the World has knocked out three strong workouts in a row, including a speedy six-furlong move at Santa Anita on February 28 in 1:13 flat after a bullet best of 17 workout on February 22 at the same distance.  There is no doubt that Baffert is trying to put foundation in this lightly-raced colt.
Sired by Tapit and out of a Galileo mare, Reach the World is a "big Tapit," in Bafffert's words, and has good distance pedigree.  He is owned by the Don Alberto Racing Stables that also owns top Kentucky Oaks prospect Unique Bella.  Baffert recently said that he would go straight to the Santa Anita Derby with Reach the World if everything goes well with this allowance try.
Irish Freedom is returning from a pastern injury suffered last summer and will try to make a late Derby Trail run.  Owned by Donegal Racing, the plan is to run in this allowance and go straight to a last-ditch Derby prep in order to get points and try to make the gate on the first Saturday in May.
Irish Freedom has only run once in his career, and it was way back in August, breaking his maiden at Del Mar at six furlongs.  That win was flattered when the second-place finisher in that race, Royal Mo, won the Grade-3 Robert Lewis in early February.
Sired by Pioneerof the Nile, Irish Freedom should have plenty of distance pedigree, but asking him to go 2 1/2 furlongs longer than he's ever run in his return off almost seven months' rest may be tough.  However, it could set him up for a good chance in a 100-point Derby prep.
Pletcher's Tampa Hopes
With the defections of Classic Empire and McCraken from the Tampa Bay Derby at Tampa Bay Downs this Saturday, March 11, Pletcher may land the exacta with Tapwrit and Sonic Mule.  Pletcher pulled that trick last year, when Destin and Outwork ran 1-2 in the 2016 renewal of this race, so a Pletcher sweep is not unprecedented.
Tapwrit was discussed in the Pletcher Top 20 to start the year and Part 1 of this series, so we'll turn our attention to Sonic Mule.  After winning the non-graded Mucho Macho Man Stakes at a mile to start the year at Gulfstream, Pletcher had commented that he'd keep Sonic Mule to one-turn races. His cutback to seven furlongs in the Grade-2 Swale to get third behind top three-year olds Favorable Outcome and Three Rules was nothing to sneeze at since he was on the early hot pace. Running at the 1 & 1/16 miles of the Tampa Bay Derby will be the farthest he's run in his career and many are saying that he is being entered to guarantee a hot pace for his stablemate Tapwrit.
Third Day had been rumored to enter the Tampa Bay Derby, but will wait for another opportunity down the trail.  After winning a 5 1/2 furlong sprint at Monmouth to break his maiden in the slop, Third Day was off for six months.  His return win in the one-turn mile, non-graded Just One More Stakes at Gulfstream to start February was not overly impressive, but he did get the job done late in the stretch.  After the race, Pletcher said Third Day learned a lot in the race, getting a "little shy behind horses" and ran a bit green.
As a son of Bernardini out of a Street Cry mare, Third Day will not be limited by his pedigree to stretch out.  His recent workouts at Palm Beach Downs since his last race have been rather slow, including a prep work on March 4 in company with Tapwrit.
Third Day Replay winning Just One More Stakes:
Pletcher's Big Three
As mentioned before, One Liner, Battalion Runner, and Always Dreaming may be the best three Derby prospects for Pletcher right now.
Pletcher is waiting to bring back One Liner, who showed up on the Derby scene with a huge win at Oaklawn in the Grade 3 Southwest Stakes on February 20.
The undefeated 3-for-3 son of Into Mischief may be distance-limited, but with the way that he was striding out at the end of the Southwest, it looks like he can run farther.  His next start will be very telling, as this lightly-raced colt will need more Derby points to clinch a spot in the gate.  Pletcher has said either the Wood Memorial, Blue Grass Stakes, or Florida Derby will be One Liner's next race.
Pletcher is waiting until the Florida Derby for one of his top prospects, the very talented Battalion Runner, to make his stakes debut.  Pletcher has said that Battalion Runner runs best off of a long rest and that the son of Unbridled's Song will train up to the Florida Derby.
After breaking his maiden in flashy fashion on the last day of 2016, Battalion Runner had a very workmanlike win in a salty allowance optional claimer on February 3 at Gulfstream, where he wore out a game Beasley in deep stretch.  Beasley will run in the Tampa Bay Derby, so if the Mark Henig-trainee runs well there, Battalion Runner's stock will continue to rise.
Battalion Runner did not record a work until three weeks after his AOC win, but he returned to put in an easy four-furlong breeze at Palm Beach on February 25.  He followed that up with a bullet best out of 13 work at five furlongs on March 4.  It's a risky move, waiting for one shot to get Derby points, so Pletcher will need Battalion Runner to finish first or second in the Florida Derby in order to make the gate.
The last of the big three for Pletcher is Always Dreaming.  Initially rumored to run in the Tampa Bay Derby, Pletcher instead took the easier route, as Always Dreaming romped by an easy four lengths in an allowance win on March 4 at Gulfstream.  That race was at 1 1/8 miles, so the son of Bodemeister has already shown his ability to win at longer distances.
St. Elias Stables owns Battalion Runner and have ownership interest in Always Dreaming, so we will not see both in the same last Derby prep.  Pletcher will ship Always Dreaming to either the Louisiana Derby, Wood Memorial, or Blue Grass Stakes.
Baffert's Next Bests
Baffert isn't just limited to Mastery, American Anthem, Reach the World, and Irish Freedom to get in the Derby gate.
Dabster is another that Baffert has said he is "just waiting on" and may go straight to a "big" Derby prep as his next start.  The Sunland Derby may be a good landing spot for Dabster to get Derby points, but that is pure speculation, as Baffert has kept tight-lipped on his plans.
As mentioned previously, Dabster beat his stablemate, Reach the World, to break his maiden in mid-January, but hasn't raced since.  He also has only one recorded workout on February 14, so the son of Curlin may have the distance pedigree, but other issues may be holding him back.
The rest of the best three-year old prospects for Baffert include:
· Bronze Age: Sired by Mineshaft and owned by Juddmonte, he earned a gaudy 93 Beyer speed figure when he broke his maiden in gate-to-wire fashion in his third career start on February 18 at Santa Anita.  His final time of 1:35.29 in that race was the fastest mile ran at the meet up to that point, so he's one to watch.  He returned to the worktab on March 4 with an easy six-furlong work.
· West Coast: Runner-up to Bronze Age by 1 1/2 lengths in his debut.  He was seven lengths clear of the third-place finisher while getting a 91 Beyer speed figure.  Sired by Flatter, Baffert will most likely look for another maiden opportunity for West Coast, who returned to the worktab on March 6 with a six-furlong move.
· Aquamarine: Unraced at 2, he broke his maiden at 5 1/2 furlongs in mid-January for Baffert and Zayat Stables.  He ran fourth in a major class step-up in the Grade-2 San Vicente over seven furlongs on February 12.  He worked four furlongs on the worktab on March 1, so indications are that he will stay to sprinting in the short term.
· Big Gray Rocket: He scratched out of an allowance race in early February and hasn't been seen on the worktab since.  He showed much promise last summer, breaking his maiden at Del Mar before shipping to New York and running fourth in the Grade 1 Champagne.
· Hot Sean: Last out, he ran second in the Grade-3 Delta Jackpot, which has become a key race, as the winner, Gunnevera, and the fourth-place finisher, J Boys Echo, have both clinched spots in the Kentucky Derby gate due to winning the Fountain of Youth and Gotham, respectively.  He has only logged two recorded workouts in 2017, and Baffert has said that he will focus on sprints for Hot Sean.
· Beach Bum: This impressive juvenile for Baffert is off the Derby Trail due to foot problems and will work towards a return later in the year.
Todd Squad
As an update to Part 1 of this two-part series, Action Everyday ran a good fourth in the Gotham, picking up five all-important Derby points, so it's likely that he has earned himself another chance in a Derby prep to see if he can squeeze out enough points to make the gate.
Made You Look faltered on the turn after attending the hot pace in the Fountain of Youth, which was his first try on dirt and a different running style than he had shown in his turf races.  Plans for Made You Look are unknown at this time.
As for the many other Pletchers roaming this Earth, if you've been reading my articles on RacingDudes.com, you know that I've written about almost every Pletcher in this crop since they were juveniles training at Saratoga last spring.  I have accumulated a list that can go on for days, but to keep this article to a manageable length, I'll close out my coverage of the Pletcher 3-year olds with some updates on the top of the crop:
· Fact Finding: He came into the year as a top Pletcher Derby prospect, but an uninspiring fifth-place finish in the Grade 3 Sam F. Davis at Tampa Bay has left the team to re-group, as he has yet to return to the worktab after the race.
· Theory: The trials and tribulations after his run in the Breeders' Cup Juvenile are well-documented in my Pletcher Top 20 article here and he has been working steadily at Palm Beach Downs for his return to the races, which is expected to be March 25 in the Spectacular Bid, a 6 1/2 furlong race at Gulfstream.  With his owners WinStar, China Horse Club, and SF Bloodstock already having One Liner and American Anthem as top Derby prospects, Theory will most likely not be rushed into the Derby picture.
· Syndergaard: Here's another Pletcher who ran in the Breeders' Cup Juvenile who also spiked a fever afterward and hasn't raced yet this year.  After a freshening at the Stonestreet training center, Syndergaard (named after the New York Mets pitcher) returned to the Pletcher barn, putting in a three-furlong work on March 3 at Palm Beach.  Plans are for a sprint campaign in 2017.
· Patch: Unraced as a juvenile, he was a late-closing second behind Impressive Edge on debut in mid-January at Gulfstream.  Impressive Edge returned to run well in the Grade 2 Swale and to win an allowance on March 5, so these runs have flattered Patch.  He returned on February 18 to break his maiden at a mile, so maybe the son of Union Rags, out of an A.P. Indy mare, takes a shot to stretch out even farther into a Derby prep. His bullet best of 20 workouts at four furlongs on March 4 at Palm Beach may be evidence for the barn that he's fresh.
· Monaco: The $1.3 million son of Uncle Mo broke his maiden in his third career start at Tampa Bay Downs on February 12.  He got right back on the worktab on February 25 and March 3 with four-furlong moves, so it's all about how aggressive his connections want to get with him in his next start.
· Egyptian Hero: Another who broke his maiden recently at Tampa, doing so by four lengths on February 11 over seven furlongs in his second career start.  Owned by Coolmore, sired by Pioneerof the Nile, and from the family of Grade 1 winners Chaposa Springs and You and I, he returned to the worktab on February 25 and March 3 with four-furlong moves.
· Blind Ambition: Ran a good third in a salty maiden group on March 4 at 1 1/16 miles in his second career start.  Sired by Tapit out of an Elusive Quality mare and owned by Gainesway, he has the pedigree and connections to put together a strong campaign in future months.
· Faja: He was an impressive maiden winner in December for Pletcher, but he's had ankle issues and will focus on a return in the summer.
Bob & Todd 2017 Derby Rankings
Since we've evaluated over 30 Baffert and Pletcher 3-year olds in this two-part series, it would be fitting to finish and summarize with a list ranking these 30 in order of likelihood to make the Kentucky Derby starting gate: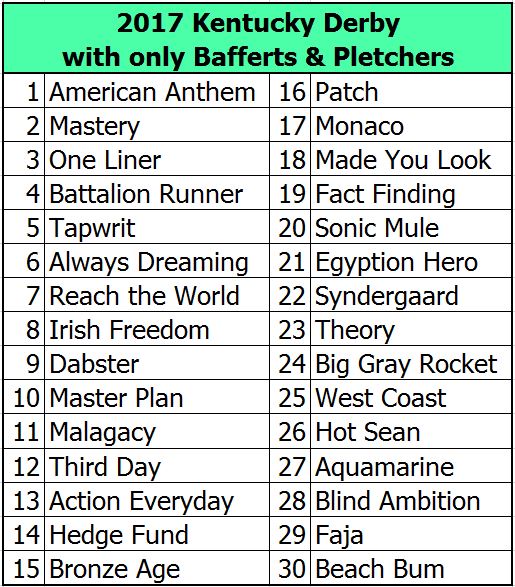 Thank you for making it through over 4,300 words of Derby coverage on Bob Baffert and Todd Pletcher's Derby prospects in this two-part series!
For updates as we continue down the Derby Trail, please follow me on Twitter @SaratogaSlim and follow the Derby Trail Tracker here for probables of every Derby prep coming up.