The last weekend in January has never been known as a must see weekend for racing, but this year figures to be quite different.  Awesome Feather, Mucho Macho Man, Musical Romance, and Hansen will all be making their season debut's at Gulfstream Park this weekend.  Here is a look at each one of them as they take their first steps towards greatness in 2012:
 Hansen – The 2-year-old horse of the year returns for his 3-year-old debut in the Holy Bull at Gulfstream Park on Sunday.  The Holy Bull is our race of the week, so check back here for a full preview of this race on Thursday night.  While the field has not been set just yet, you'd have to think Hansen is going to be very tough to beat in this spot.  He's already shown the ability to win against the best at one and one-sixteenth mile, so the one mile distance should suit him just fine.  I expect him to run well, but the big question of how far can he run will still need to be answered as we progress down the road to the Kentucky Derby.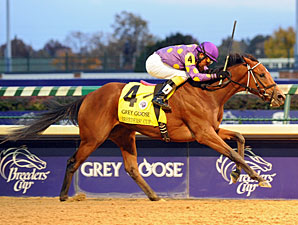 Awesome Feather (FL)  – The former 2-year-old female of the year, and 8 for 8 lifetime filly will be making her 4-year-old debut in the Florida Sunshine Millions Distaff this Saturday at Gulfstream.  After taking off most of 2011 with injury, Awesome Feather made her first start in October when she won the La Slew Stakes at Belmont, and then followed that up with a Grade 1 win in the Gazelle Stakes at Aqueduct to close out the year.  The race this Saturday looks to be a nice spot for her to start off the year.  Awesome Feather is a Florida bred horse, so why not take advantage of that and run her in a state bred race which still offers a big purse, while giving her what should be an easy win.
  Mucho Macho Man (FL) – Here is a horse that really has my interest this year.  Mucho Macho Man ran in all three Triple Crown races last season before taking off five months to rest.  He came back to dominate an Allowance race at Aqueduct in November, and Saturday's start in the Florida Sunshine Millions Classic will be his first start since that race.  Remember that Mucho Macho Man was a late foal, meaning he actually didn't turn 3 years old until after the Triple Crown was over.  I expect him to develop into his large frame and become a force this year.  This will not be an easy race for him though, as a tough field of 6 other experienced rivals will be looking to gun him down.  Win or lose this race, I do think it's a great stepping stone for him.
Musical Romance (FL) – Last year's Breeders Cup Filly and Mare Sprint Champion makes her 2012 debut in the Florida Sunshine Millions Filly and Mare Sprint.  Musical Romance is a horse you really have to love if you're like me and love how she's been campaigned.  Her 14 races last year shows how sound she is, and they ran her at 5 different race tracks which shows she doesn't mind what surface you run her on.  However, I do not believe she is a lock to win this race.  Musical Romance is a very classy mare, but she will face classy horses in Beat the Blues (FL) and Pomeroys Pistol (FL).