The dust has fully settled on the Triple Crown. The first Breeder's Cup Classic "grand slam" has been cemented in the history books. All of the trophies and year-end awards have been handed out to his owner Ahmed Zayat and trainer Bob Baffert.
What is left to enhance the legacy of American Pharoah?
After settling into his new home at Coolmore in Versailles, Kentucky, his stud legacy will start to be evaluated in the spring of 2019 when his first set of sons and daughters hit the track.
Since we'll have to wait 3 years to see his offspring in action, what can fans of American Pharoah do this year?
The only way to add to Pharoah's legacy in 2016 is to follow the horses that he raced against.
American Pharoah's "class" can be "flattered" by the way his competitors perform this year. As "class" handicappers may say, "A horse's class is measured by how the horses he or she beat or ran against come back in future races."
American Pharoah may have single-handedly brought new fans into the game. A great way to keep these fans engaged and to start the Pharoah chatter to last throughout 2016 is to rank those horses that can flatter American Pharoah's class the most in 2016. Let's start by looking at the numbers in total in American Pharoah's career:

Some of the names above should be very familiar to Pharoah fans. By first looking at what horses faced American Pharoah the most, we can start evaluating which will have the greatest effect on his legacy this year.
To provide an unbiased opinion and fun way to rank these horses, a "Pharoah Flatter Factor Formula" (say that fast three times!) has been created.
It accounts for:
The number of times a horse faced American Pharoah
A weighted score of the horse's lifetime performances in Graded Stakes races
A weighted average lengths beaten by American Pharoah
Added points for 2016 potential based on industry older male rankings
For the math geeks out there, here is the Pharoah Flatter Factor (PFF) Formula:

The Graded Stakes points are added up for the horse's career performances and scored on a graduated scale for each 1st through 4th place finish as follows:

Another approach to identify Pharoah's finest foes is to include the lengths that Pharoah beat his rivals into the analysis. A full table of all 58 horses that raced against American Pharoah in his 11 races ordered by average lengths beaten can be found at the end of this article.
As a correction factor to assess the potential for Pharoah's foes to flatter him, the top ten 2016 ranked horses received added points as ranked below: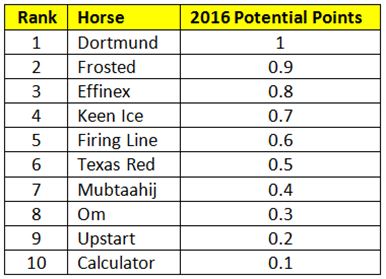 With preps for the Dubai World Cup, the Grade-1 Donn Handicap and Grade-2 San Antonio scheduled at the beginning of February and possibly featuring many of these horses, this is the perfect time to rank Pharoah's top competitors.
In order of the Pharoah Flatter Factor (PFF), here are the ranks for 2016:
1. Frosted (PFF = 3.10)
Times faced Pharoah: 4
Average beaten lengths: -5.9
Pharoah Facts: Frosted will go down in history as the only other horse mentioned in Larry Colmus' stretch call of American Pharoah's Belmont Stakes Triple Crown winning run. He never beat Pharoah, but his pressing nature in the Grade-1 Travers may have had more to do with Pharoah's only loss in 2015 than Keen Ice's closing punch.
Life after Pharoah: Frosted hasn't raced since his disappointing seventh-place finish in the Grade-1 Breeders' Cup Classic behind Pharoah, where he was bumped in the stretch after sitting third most of the race.
Pros & Cons: Frosted is a versatile animal able to set the pace, stalk or close from deep. He has been a very consistent runner after receiving throat surgery early in 2015. As a son of Tapit, he has tremendous upside in 2016.
What's next?
Frosted has already shipped to Dubai to point to the $10 million World Cup on March 26. Trainer Kiaran McLaughlin may prep Frosted twice at Meydan before the World Cup with his first start coming on February 4.
2. Keen Ice (PFF = 2.61)
Times faced Pharoah: 5
Average beaten lengths: -6.1
Pharoah Facts: Keen Ice will always hold the distinction of being the only horse to beat American Pharoah on dirt and during his three-year old campaign in the Travers. He also faced Pharoah more than any other horse. If you Google the words Keen Ice, the third most related search is American Pharoah!
Life after Pharaoh: After his shocking triumph in the Travers, Keen Ice returned with two fourth-place finishes in the Grade-1 Breeders' Cup Classic and Grade-1 Clark Handicap.
Pros & Cons: Keen Ice has been able to keep nearer to the pace in some races, but he is sometimes pace compromised with his late closing running style.
What's next?
Trainer Dale Romans has been working the son of Curlin steadily at Gulfstream Park for his possible 2016 debut in the Grade-1 Donn Handicap on February 6. From there, he's another that may ship to Dubai for the World Cup.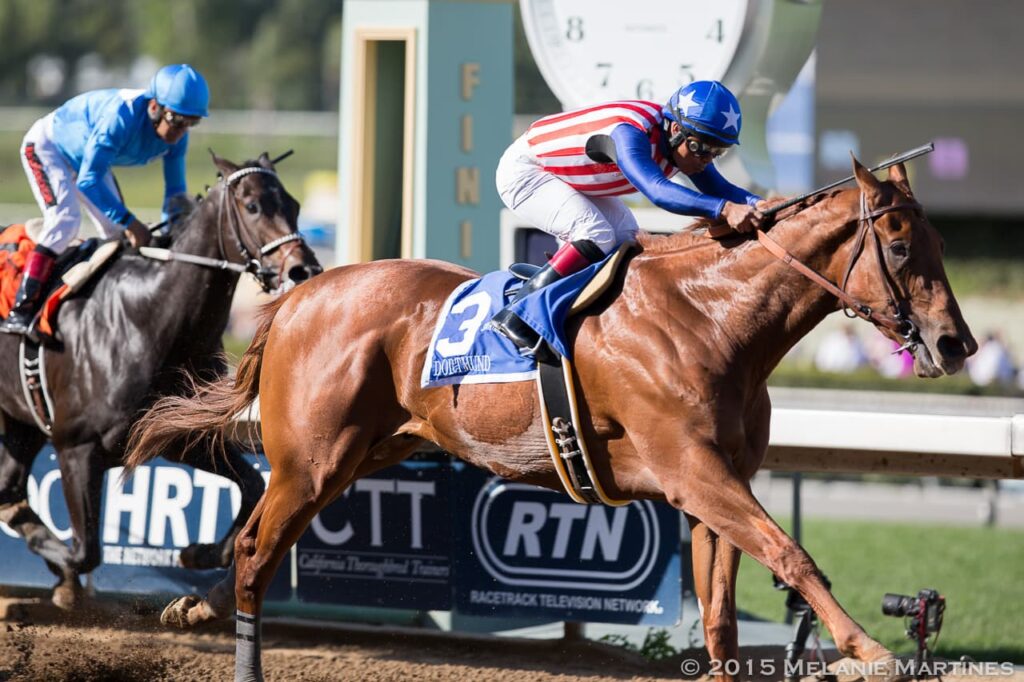 3. Dortmund (PFF = 1.92)
Times faced Pharoah: 2
Average beaten lengths: -9.3
Pharoah Facts: Pharoah's former stablemate will look to take over the #1 spot in Baffert's barn. Dortmund fought a bout with colic before the Kentucky Derby and caught sloppy conditions in the Preakness, so we may have never seen the best from him against Pharoah.
Life after Pharoah: After a long Derby prep campaign, Dortmund took off 5 months after the Preakness. He returned to easily win both the Big Bear Stakes at Santa Anita in mid-October and Grade-3 Native Diver at Del Mar at the end of November.
Pros & Cons: He may be the most talented horse on this list, but he has been injury-prone recently, including a quarter crack that held him back from shipping to Churchill Downs for the Grade-1 Clark Handicap. The same foot injury kept Baffert from starting him in the San Pasqual earlier in January after he was not satisfied with his workout leading up to the race.
He is one of the largest horses in the game, but questions still loom if he is distance limited past a mile and an eighth, even though his sire Big Brown won the 2008 Kentucky Derby.
What's Next?
Baffert has gotten steady works from his big horse recently including a bullet five-furlong workout on January 27 at Santa Anita. Still, this was not enough for Baffert to feel confident to start Dortmund in the Grade-2 San Antonio at Santa Anita on February 6. He will skip the race and may be pointed to the Grade-1 Santa Anita Handicap on March 12. He is also nominated for the Dubai World Cup, but most likely Baffert will be sending Hoppertunity to the desert instead. Dortmund's foot issues cloud his potential for 2016.
4. Effinex (PFF = 1.13)
Times faced Pharoah: 1
Average beaten lengths: -6.5
Pharoah Facts: Jockey Mike Smith rode for 2nd in the Breeders' Cup Classic and was able to claim $1 million for Effinex's
connections. He was never a threat to beat Pharoah, but was clear of top horses including Honor Code, Keen Ice and Tonalist.
Life after Pharoah: Effinex showed that the Breeders' Cup was no fluke by returning to win the Grade-1 Clark Handicap at the end of November and was the first horse to flatter Pharoah after he retired.
Pros & Cons: How much more can this over-achieving New York bred accomplish in 2016? His biggest knock may be his inconsistency. After winning the Grade-3 Excelsior, he bolted on the turn in the Grade-2 Brooklyn and didn't finish. Next, he beat Tonalist in a gritty performance winning the Grade-2 Suburban. Then next out, he got hot in the gate in the Grade-1 Woodward and never ran his race. You never know what you're going to get from Effinex!
What's Next?
Trainer Jimmy Jerkens gave Effinex some well-deserved time off after the Clark and he has started training at Belmont Park. He will most likely be pointed to the Grade-1 Santa Anita Handicap on March 12, but was nominated to the Dubai World Cup, also.
5. Texas Red (PFF = 1.05)
Times faced Pharoah: 2
Average beaten lengths: -7.9
Pharoah Facts: After losing to Pharoah in the Grade-1 FrontRunner as a two-year old, Texas Red went onto win the 2014 Breeders' Cup Juvenile. American Pharoah had scratched out of the Juvenile with a foot issue the week of the race, though.
They looked on a head-on collision to meet again in the Kentucky Derby as Pharoah was returning from his foot injury, but then Texas Red got injured.
The long awaited Texas Red vs. American Pharoah re-match finally happened in the Grade-1 Travers. The suspense was building as Texas Red won the Grade-2 Jim Dandy over Frosted as the local Saratoga prep. Texas Red didn't run his race in the Travers, though, and it was reported that he was injured shortly after the race. Texas Red is another horse that we might have never seen his best against Pharoah.
Life after Pharoah: Texas Red has been recovering from a cannon bone bruise. He returned to the track at Santa Anita Park in mid-January.
Pros & Cons: When healthy, Texas Red is one of the best in the game. In a short field in the Grade-2 Jim Dandy, he showed the ability to rate, which was different than the late closing tactics shown early in his career. The biggest question is if Texas Red can stay healthy for a prolonged campaign in 2016
What's Next?
Texas Red will start breezing in early February, according to trainer Keith Desormeaux. A return to the races in March is planned.
6. Upstart (PFF = 1.04)
Times faced Pharoah: 3
Average beaten lengths: -23.5
Based on the number of times he met Pharoah and the strength of his stakes career as a two-year old and early in his three-year old career, Upstart is ranked higher in the PFF than some would think. His Grade-1 Haskell and Travers performances behind Pharoah were both workmanlike. Trainer Rick Violette gave Upstart some time off after his dull performance in the Grade-2 Pennsylvania Derby. He returned to training with two easy workouts in Florida on January 24 and 30.
7. Om (PFF = 0.92)
Times faced Pharoah: 1
Average lengths ahead of Pharoah: 9.0
Om will always be known as the horse that won American Pharoah's debut race at Del Mar on the synthetic surface (since-replaced) on August 9, 2014. He has done a lot to shake that stigma recently, though, with impressive wins on the turf. He has amassed three Grade-2 turf wins in his last four races. As the lone turf runner on this list, he has a distinct way to flatter Pharoah if he puts together a dominant campaign. The Grade-2 Arcadia on February 13 and the Grade-1 Kilroe Mile on March 12, both at Santa Anita, may be next on trainer Dan Hendricks' schedule for Om.
8. Mr. Z (PFF = 0.78)
Times faced Pharoah: 3
Average beaten lengths: -13.8
Good old Mr. Z makes the list based on the strength of his total 17 Graded Stakes career performances. He was the only other horse to wear the Zayat Stables colors in the Kentucky Derby starting gate alongside Pharoah. Amazingly, trainer D. Wayne Lukas has given him a break after racing a fading 8th in the Grade-1 Clark Handicap at the end of November. He hasn't been on the worktab recently, but Lukas will surely get him back in action as he's stabled at Oaklawn Park.
9. Firing Line (PFF = 0.58)
Times faced Pharoah: 2
Average beaten lengths: -23.0
American Pharoah's toughest challenger on his way to the Triple Crown came in the form of Firing Line during the stretch run of the Kentucky Derby. Losing by one length was no disgrace for Firing Line. The PFF formula unjustly over-emphasizes his 45 length loss to Pharoah in the Preakness in the slop. Additionally, Firing Line doesn't have the body of work in Graded Stakes like Upstart or Mr. Z, so he is ranked lower on the PFF.
On pure upside, he is ranked in the top 5 on this list, but will need to return from a long lay-off. He hasn't raced since the Preakness in May, but returned to the Simon Callaghan barn in mid-January. Callaghan said recently that Firing Line is tack-walking and will start jogging in early February.
10. Calculator (PFF= 0.49)
Times faced Pharoah: 3
Average beaten lengths: -2.3
Calculator is a forgotten horse, but kept very close to American Pharoah as a two-year old. He beat Pharoah by a length in his debut and was second in both the Grade-1 Del Mar Futurity and FrontRunner to Pharoah. Calculator suffered a non-displaced condylar fracture that required surgery after his three-year old debut win in the Grade-3 Sham over a year ago. He hasn't raced since, but with steady workouts since late November, trainer Peter Miller will be looking to get Calculator back to the track in 2016. He is the true "wild card" in the Pharoah flatter rankings.
11. Mubtaahij (PFF = 0.48)
Times faced Pharoah: 2
Average beaten lengths: -8.6
After winning the UAE Derby, Mubtaahij ran two very steady and strong races in the U.S. in the Kentucky Derby and Belmont Stakes. In a photo released on Twitter in early January by trainer Mike de Kock's camp, Mubtaahij looks like he has fully grown into his large frame. He is entered to run at Dubai on February 4 and will be a horse to watch in the Dubai World Cup on his favorite track at Meydan.
12. Madefromlucky (PFF = 0.48)
Times faced Pharoah: 3
Average beaten lengths: -11.0
Madefromlucky is very closely tied to American Pharoah. He ran second in the Grade-2 Rebel in Pharoah's return to the races in 2015. After getting away from Pharoah after a fourth-place finish in the Grade-1 Arkansas Derby, Madefromlucky won the Grade-2 Peter Pan impressively. He has had an up-and-down year since, but most recently ran a good second in the Harlan Holiday at Gulfstream Park. Trainer Todd Pletcher has him nominated for the Grade-1 Donn Handicap on February 6 as his possible next start.
13. Iron Fist (PFF = 0.11)
Times faced Pharoah: 2
Average beaten lengths: -5.5
As one of the four horses to beat American Pharoah in his debut race, Iron Fist will always be linked to Pharoah. Most recently, Iron Fist ran third to Dortmund in the Grade-3 Native Diver at Santa Anita. His impressive second-place run in the Grade-2 Pennsylvania Derby behind Frosted shows that he can be a top horse in the division in 2016. He hasn't recorded a workout since January 9 for trainer Jerry Hollendorfer.
14. Far Right (PFF = 0.05)
Times faced Pharoah: 2
Average beaten lengths: -11.9
Second to American Pharoah in the Grade-1 Arkansas Derby, Far Right has done his best running at Oaklawn Park. He recently returned off a six month layoff to rally strongly for second in an allowance race on January 28 at Oaklawn. Trainer Ron Moquett most likely will be getting the late closer ready for the major stakes races at Oaklawn during this winter meet.
15. Lord Nelson (PFF = 0.05)
Times faced Pharoah: 1
Average beaten lengths: -6.5
The sprinter Lord Nelson only ran against Pharoah once, a fourth place finish in the Grade-1 FrontRunner. He has put together a string of strong stakes performances punctuated by his Grade-2 San Vicente win over Texas Red last February. Most recently, he ran a good third behind male sprinter of the year Runhappy in the Grade-1 Malibu at Santa Anita on December 26. Trainer Bob Baffert looks to be giving Lord Nelson a break after his strong 2015 sprinting campaign, since he has not recorded a workout since the Malibu.
Overall, the 15 horses on this list exude a great amount of class and talent. The key to any horse is staying healthy and this bunch will need to stay sound to flatter Pharoah. Horses like Firing Line, Texas Red and Calculator will need to come back from long lay-offs and Dortmund will need to work through his foot issues to live up to his potential.
The Pharoah Flatter Factor provides a fun way to break down the top horses to watch in 2016 that may be able to add to American Pharoah's legacy. The beauty of the formula is that as the horses above add to their stakes performances, their PFF will change. We'll look to update the rankings as they change throughout the year as the "Pharoah Phlattering" continues.
Back-Up Data: Table Sorted by Average Lengths Beaten by American Pharoah
Horses that have retired to stud or are no longer running are highlighted in red in the table below including Tonalist (won Grade-1 Cigar Mile after running 5th to Pharoah in Breeders' Cup Classic), Honor Code, Carpe Diem, Competitive Edge, Materiality, Gleneagles, One Lucky Dane and the late Danzig Moon: